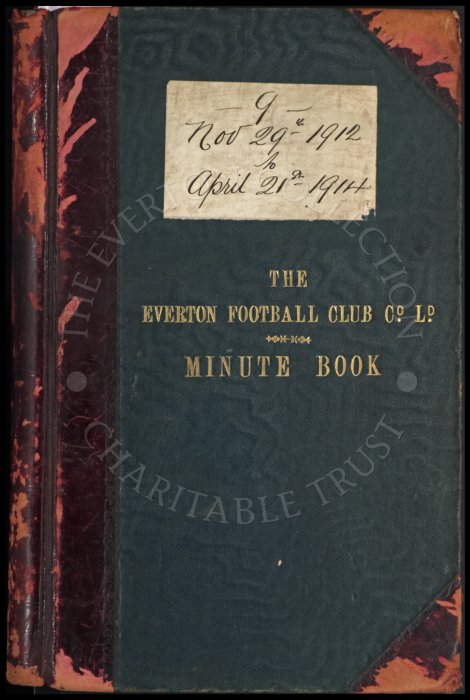 See other pages by clicking on Next or by
entering a page number and clicking Go.
Contains minutes of general meetings, emergency meetings, annual general meetings. 17 Dec 1912 the League players attended the general meeting and were asked to try and improve the Club's League position. 25 Dec 1912 special training in Blackpool was confirmed. 25 Feb 1913 the Secretary reported that the Earl of Derby wanted to discuss the details of a visit to Goodison Park by King George V and Queen Mary on 11 July 1913. The Secretary read a letter from Frederick J. Wall, Secretary of the F.A., intimating that Everton players were betting on football. 2 May 1913 it was agreed to plan a pavilion for the royal visit. May-Aug 1913 arrangements for the royal visit are recorded. W. C. Cuff tendered his resignation from the Liverpool County F.A. and Horace Wright was nominated to the vacancy. 29 Oct 1913 it was alleged that a shareholder, Mr. E. Francis, had interfered with the auditors' work at the A.G.M. 27 Nov 1913 the Secretary reported that he had signed Robert Parker from Glasgow Rangers. 17 Mar 1914 Mr Leitch, the architect, submitted his plans for a new stand at the Bullens Road side of Goodison Park. Minutes signed by William Whitford, W. R. Clayton, Dr. James C. Baxter, John Davies. League and Central League Team results 1912-13 pasted to front flyleaf. Lists of players to be retained and transferred for the season 1913-14 pasted in after minutes of 22 Apr 1913. Letter giving notice of the A.G.M. on 9 June 1913 including balance sheet pasted in before minutes of the meeting. Letter from Companies' Registration Office pasted in before minutes of 8 Jul 1913. Accounts for the year ended 30 Apr 1913 pasted in opposite minutes of 5 Dec 1913. Retain and transfer lists for the season 1914-15 pasted to back flyleaf. Includes index.
Permission to reproduce an image for anything other than private use must be obtained from the Everton Collection Charitable Trust