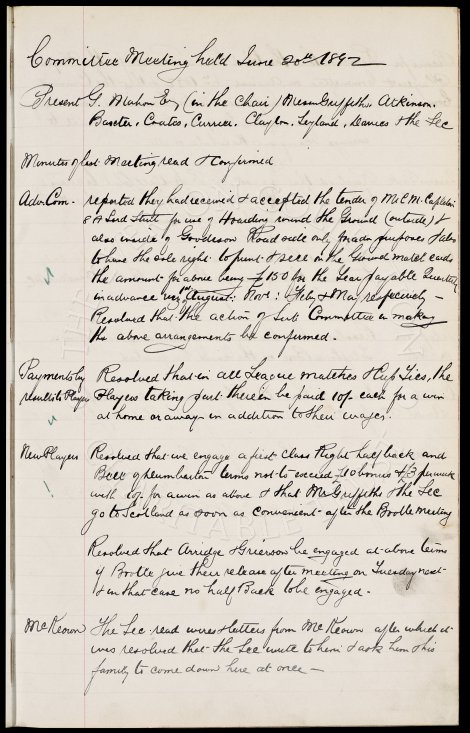 Committee Meeting held June 20th 1892



Present		G. Mahon Esq. (in the Chair) Messrs Griffiths, Atkinson,
		Baxter, Coates, Currier, Clayton, Leyland, Davies & the Sec.

Minutes	of last meeting read & Confirmed

Adv. Com.	Reported they had received & accepted the tender of Mr. C. M. Capleton
		8A Lord Street for use of Hoarding round the Ground (outside) &
		also inside of Goodison Road side only for adv. purposes & also
		to have the sole right to print & sell in the Ground match cards
		the amount for above being £150 for the Year payable quantity
		in advance viz. 1st of August: Nov: February & May respectively
		Resolved that the action of sub Committee on making
		the above arrangements be confirmed.

Payments by	Resolved that in all League matches & cup Ties, the
results to Players players taking part therein be paid 10/- each for a win
		at home or away in addition to their wages.

New Players	Resolved that we engage a first class Right half back and
		Bell of 

Dumbarton

 terms not to exceed £10 bonus & £3 per week
		with 10/- for a win as above & that Mr. Griffiths & the Sec.
		go to Scotland as soon as Convenient after the Bootle meeting.

		Resolved that Arridge & Grierson be engaged at above terms
		if Bootle give their release after meeting on Tuesday next
		& in that case no half back to be engaged.

McKeown		The Sec. read wires & letters from McKeown after which it
		was resolved that the Sec. write to him & ask him & his
		family to come down here at once.