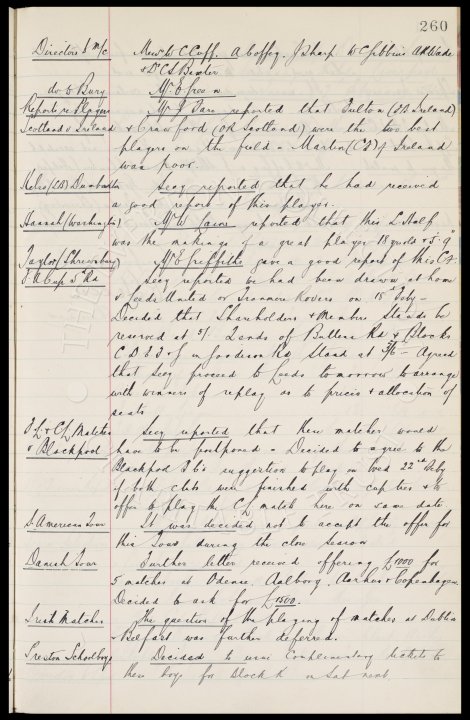 260

Directors to M/c	Messrs W C Cuff, A Coffey, J Sharp, W C Gibbins, A R Wade
			& Dr C S Baxter

   do to Bury		Mr. E. Green.

Reports re Players	Mr J Fare reported that Fulton (FA. Ireland)
Scotland v Ireland & Crawford (OR Scotland) were the two best
		players on the field - Martin (CF) of Ireland
		was poor.

Kelso (LB) 

Dumbarton

	Secy reported that he had received
		a good report of this player.

Hannah (Washington)	Mr W Laine reported that this L-Half
		was the makings of a great players 18 yrs old & 5'9"

Taylor (Shrewsbury)	Mr E Griffiths gave a good report of this C.F.

F.A Cup 5th Rd.		Secy reported we had been drawn at home
		v Leeds United or Tranmere Rovers on 18th Feby.
		Decided that Shareholders & Members Stands be
		reserved at 5/-  2 ends of Bullens Rd & Blocks
		C, D, E, F & G in Goodison Rd Stand at 3/6- Agreed
		that Secy proceed to Leeds tomorrow to arrange
		with winners of replay as to prices & allocation of
		seats.

F.L. & C.L. Matches	Secy reported that theSe matches would
v Blackpool	have to be postponed - Decided to agree to the
		Blackpool FC's suggestion to play on Wed 22nd Feby
		if both clubs were finished with cup ties & to
		offer to play the C.L. match here on same date.

S. American Town	It was decided not to accept the offer for
		this Tour during the close season.

Danish Tour		Further letter received offering £1000 for
		5 matches at Odense. Aalborg, Aarhus & Copenhagen.
		Decided to ask for £1500.

Irish Matches		The question of the playing of matches at Dublin
		& Belfast was further deferred.

Preston Schoolboys	Decided to issue Complimentary tickets to
		these boys for Block K on Sat next.