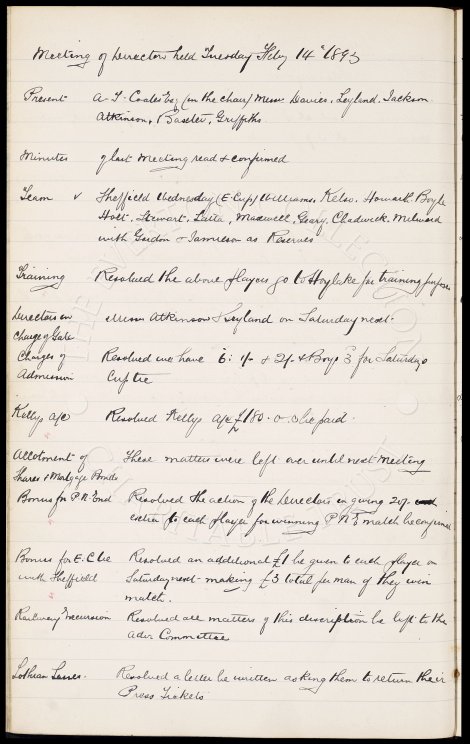 Meeting of Directors held Tuesday Feby 14th 1893



Present		A.J. Coates Esq.(in the Chair) Messrs, Davies, Leyland, Jackson,
		Atkinson, Baxter, Griffiths.

Minutes		of last meeting read & confirmed.

Team	v	Sheffield Wednesday (E. Cup) Williams, Kelso, Howarth, Boyle,
		Holt, Stewart, Latta, Maxwell, Geary, Chadwick, Milward,
		with Gordon & Jamieson as Reserves.

Training	Resolved the above Players go to Hoylake for the training purposes.

Directors in	Messrs. Atkinson & Leyland on Saturday next.
charge of Gate

Charges of	resolved we have 6: 1/- & 2/- & boys 3 for Saturdays
admission	cup tie.

Kellys a/c	Resolved Kellys a/c £180.0.0 be paid.

Allotment of	These matters were left over until next meeting.
Shares & Mortgage Bonds

Bonus for P.N. End Resolved the action of the Directors on giving 20/-
		extra to each player for winning P.N.E. match be confirmed.

Bonuses for E.C.tie Resolved an additional £1 be given to each player on
with Sheffield	Saturday next making £3 total per man if they win
		match.

Railway Excursion Resolved all matters of this description be left to the
		Adv. Committee.

Lothian Lasses	Resolved a letter be written asking them to return their
		Press Tickets.