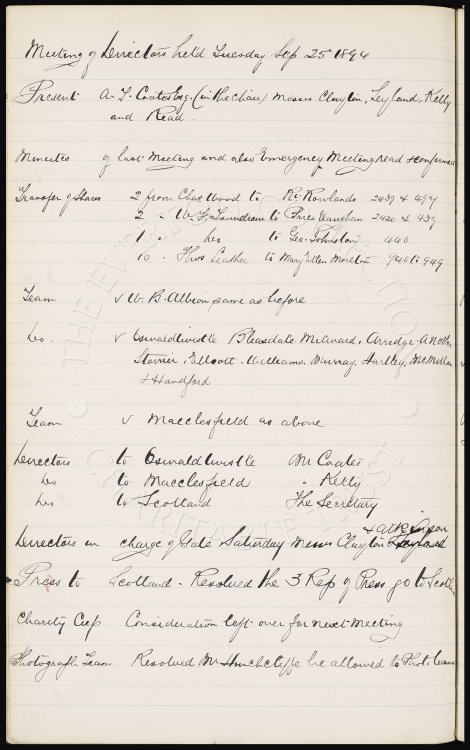 Meeting of Directors held Tuesday Sep. 25th 1894



Present		A. T. Coates Esq. (in the chair) Messrs Clayton, Leyland, Kelly,
		and Read.

Minutes		of last Meeting and also Emergency Meeting read & confirmed.

Transfer of Shares 2 from Chas. Wood to Rt. Rowlands	2439 & 497
		2 " W. F. Soundram to Price Vaughan	2420 & 439
		1 " 	Do 	   to Geo. Johnston	440
		10 " Thos Leather to Mary Ellen Moreton	940 to 949

Team	v	W. B. Albion same as before

Do	v	Oswaldtwistle - Bleasdale, Milward, Arridge, A. N. Other,
		Storrier, Elliott, Williams, Murray, Hartley, McMillan
		& Handford.

Team	v	Macclesfield as above.

Directors	to Oswaldtwistle	Mr. Coates.
Do		to Macclesfield		" Kelly.
Do		to Scotland		The Secretary.

Directors in 	charge of Gate Saturday Messrs Clayton & Atkinson.

Press to	Scotland. Resolved the 3 Rep. of Press go to Scotland.

Charity Cup	Consideration left over for next meeting.

Photograph Team	Resolved Mr. Hinchcliffe be allowed to Photo team.