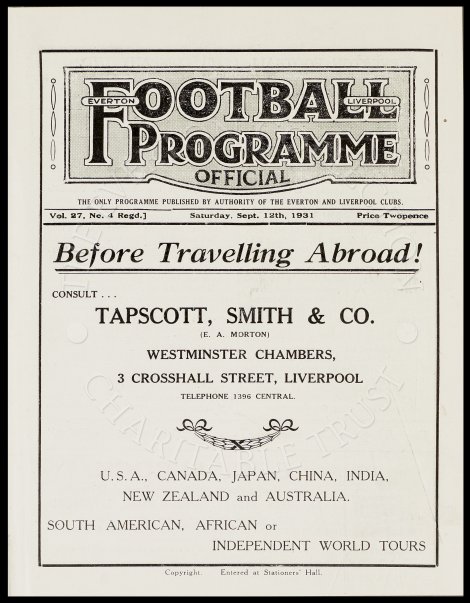 See other pages by clicking on Next or by
entering a page number and clicking Go.
Programme - Everton v Manchester City
Everton & Liverpool joint programme. Manchester City defeated Everton 1-0, in front of 32,570 spectators. Everton won the 1st Division in 1931-32 by 56 points, 2 points ahead of runners-up Arsenal.
Phillip Griffiths
Archie Clark
Harry Lowe
Charlie Gee
Cliff Britton
Bill Bocking
Ben Williams
Jock Thompson
Ted Sagar
Arthur Rigby
Lachian McPherson
Joe McClure
Tommy Johnson
Billy Coggins
Jimmy Stein
Jimmy Dunn
Tommy White
George Martin
Ted Critchley
Warneford Cresswell
William Ralph Dean
Permission to reproduce an image for anything other than private use must be obtained from the Everton Collection Charitable Trust