TREASURE CHESTS

Treasure Chests are a great way of bringing the past to life. They contain replica archive objects, photographs and original documents from the Everton Collection to help your pupils explore the history of football and the local area. Treasure chests can be borrowed free of charge by schools in Liverpool. Treasure chests: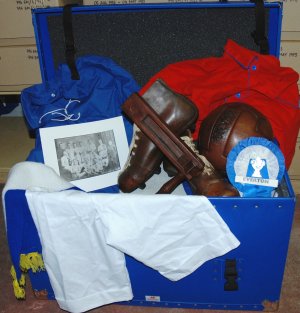 - Can be borrowed free of charge by schools for up to two weeks
- Are suitable for pupils at Key Stage 1-3
- Contain lesson plans for Key Stage 1 and 2
- Enhance speaking and listening skills
- Can be used to make links to the Primary Literacy Framework and History and Citizenship curriculum
- Can be used during a local history study
- Are delivered and collected from local schools free of charge
Please download the documents on the right of this page to find out more about the Everton Collection Treasure Chests.
"All staff found the box a worthwhile resource. children loved having the opportunity to handle real artefacts....teachers commented that the loan box brought life to local history and gave energy to speaking and listening. It was refreshing to see the children so enthusiastic, (even LFC fans), and they remained focused on the task for the whole session".
Anne Mason, Learning Mentor, Hope Vallery Community Primary
Book a Treasure Chest

If you would like to book a Treasure Chest please contact the Everton Collection
Email: everton.collection@liverpool.gov.uk
Tel: 0151 233 5819
You can also
register
to make a booking using an
online enquiry form
.