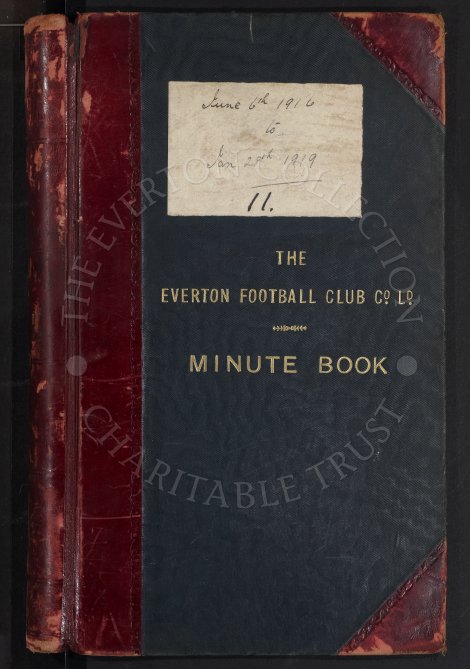 See other pages by clicking on Next or by
entering a page number and clicking Go.
Contains minutes of general meetings, annual general meetings. 11 Aug 1916 it was reported that the Board of Customs and Excise would allow the club to pay Entertainment Tax in weekly amounts. 23 Aug 1916 the directors informed Alexander Young's solicitors that the Club might help him after he had served his sentence in Australia. 10 Oct 1916 the club agreed to register a charity named the Everton Football Club, Army and Navy Footballs and Football Outfits Fund. 13 Feb 1917 it was agreed that 2,500 be invested in the 5% War Loan. 24 May 1917 it was reported that unless a system of gate sharing was introduced there was little chance of League football next season. 19 Dec 1917 it was reported that a footballers' benevolent fund had been founded by the F.A. to assist players and their dependants. 20 Feb 1918 the directors instructed Mr W. J. Geddes, solicitor, to proceed in a bribery case against
George
Anderson of Manchester United. 16 Apr 1918 it was reported that
George
Anderson had been found guilty of conspiracy. 25 Sep 1918 it was agreed to take part in the Lancashire Senior Cup. 3 Dec 1918 W. J. Sawyer became Secretary to the Club. Minutes signed by W. R. Clayton, Dr. James C. Baxter, B. Kelly. English League results 1916-17 pasted to inside front cover. English League results 1915-16 and 1917-18 pasted to front flyleaf. Letters from Companies Registration Office loose between pp.1-2, and pasted next to minutes of 6 Jun 1916 and 11 Sep 1918. Letters giving notice of the A.G.M.s on 6 June 1916 and 6 Jun 1917 including balance sheet pasted before minutes of the meetings. Application for Registration of a War Charity pasted next to minutes of 10 Oct 1916. Letter from the Football League pasted next to minutes of 15 June 1917. Slim piece of green wood between pp.187-8. Letters from the London Baseball Association Ltd., Anglo-American Baseball League pasted next to minutes of 13 Sep 1918. Four letters about the Lancashire Senior Cup pasted in next to minutes of 25 Sep, 1 Oct and 8 Oct 1918. Letter from the Football League pasted into minutes of 29 Oct and 26 Nov 1918. Letter from the F.A. pasted in next to minutes of 26 Nov 1918.
Permission to reproduce an image for anything other than private use must be obtained from the Everton Collection Charitable Trust