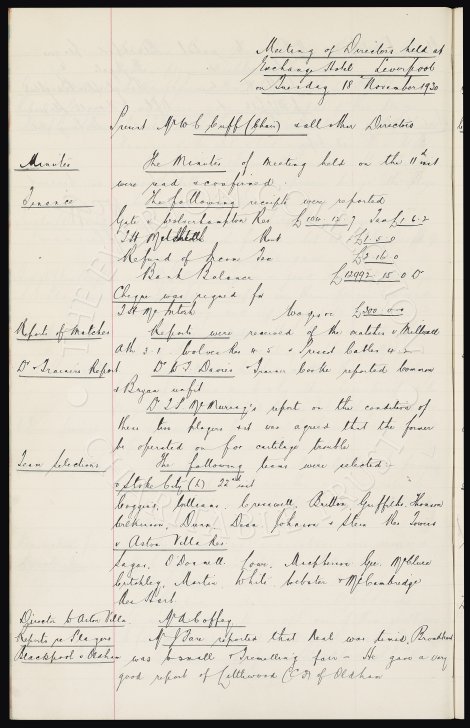 [Meeting of Directors held at
			Exchange Hotel Liverpool
			on Tuesday 18 November 1930.]

		Present	Mr. W. C. Cuff (Chair) & all other Directors.

Minutes			The minutes of meeting held on the 11th inst.
		were read & confirmed.

Finance			The following receipts were reported
		Gate v Wolverhampton Res.	£104.12.7	Tax	£1.6.2
		T. H. McIntosh		Rent				£1.5.0
		Refund of Income Tax					£2.16.0
			Bank Balance					£12992.15.0 Dr
		Cheques was signed for
		T. H. McIntosh			Wages			£300.0.0

Reports of Matches	Reports were received of the matches v Millwall
		Ath 3-1, Wolves Res 4-5 & 

Prescot

 

Cables

 4-2.

Dr & Trainers Report	Dr. W. T. Davies & Trainer Cooke reported Common
		& Bryan unfit

			Dr T. P. McMurray's report on the condition of
		these two players & it was agreed that the former
		be operated on for cartilage trouble.

Team Selections		The Following teams were selected:-

		v Stoke City (h) 22nd inst.
		Coggins, Williams, Cresswell, Britton, Griffiths, Thomson,
		Wilkinson, Dunn, Dean, Johnson & Stein Res Towers

		v Aston Villa Res.
		Sagar, O'Donnell, Lowe, Macpherson, Gee, McClure,
		Critchley, Martin, White, Webster & McCambridge
		Res. Hart.

Director to Aston Villa		Mr. A. Coffey.
Reports re Players		Mr. J. Fare reported that real was timid. Broadhead
Blackpool v Oldham was to small & Tremelling fair. He gave a very
		good report of Littlewood (CF) of Oldham.