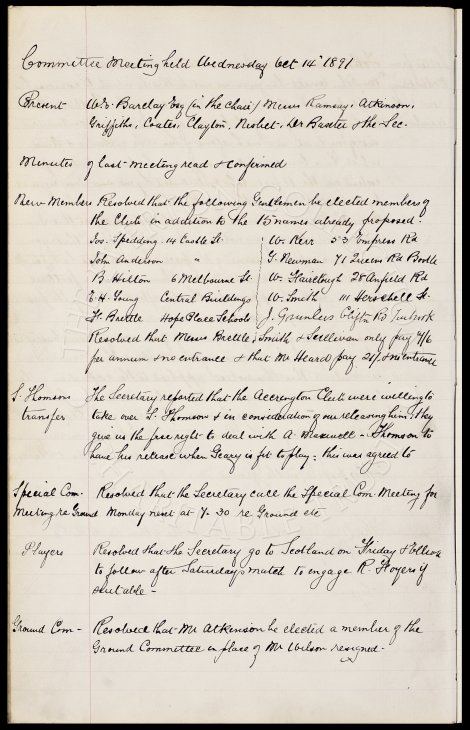 Committee Meeting held Wednesday Oct 14th 1891



Present		W. E. Barclay Esq. (in the chair) Messrs Ramsay, Atkinson,
		Griffiths, Coates, Clayton, Nisbet, Dr. Baxter & the Sec.

Minutes		of last meeting read & Confirmed.

New Members	Resolved that the following Gentlemen be elected members of
		the Club in addition to the 15 names already proposed.

		Jos. Spedding	14 Castle St.		W. Kerr		53 Empress Rd.
		John Anderson	    "			G. Newman	71 Queens Rd. Bootle
		B. Hilton	6 Melbourne St.		W. Fairclough	28 Anfield Rd.
		E. H. Young	Central Buildings	W. Smith	111 Herschell St.
		F. Brettle	Hope Place Schools	J. Greenlees	Clifton Rd. Tuebrook.

		Resolved that Messrs Brettle, Smith & Sullivan only pay 7/6
		per annum & no entrance & that Mr. Heard pay 21/- & no entrance.

S. Thomson's	The Secretary reported that the Accrington Club were willing to
transfer	take over S. Thomson & in consideration of our releasing him they
		give us the free right to deal with A. Maxwell. Thomson to
		have his release when Geary is fit to play, this was agreed to.

Special Com.	Resolved that the Secretary call the Special Com. Meeting for
Meeting re Ground    Monday next at 7.30 re Ground etc.

Players		Resolved that the Secretary go to Scotland on Friday & Elliott
		to follow after Saturday's match to engage R. Foyers if
		suitable.

Ground Com.	Resolved that Mr. Atkinson be elected a member of the
		Ground Committee in place of Mr. Wilson resigned.