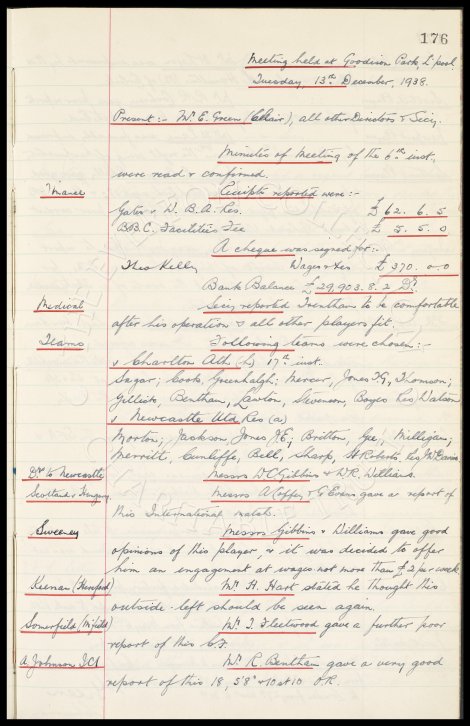 176

			[Meeting held at Goodison Park, L'pool
			Tuesday, 13th December, 1938.]

		Present:- Mr. E. Green (Chair), all other Directors & Secy.

			Minutes of Meeting of the 6th inst.
		were read & confirmed.

Finance			Receipts reported were:-
		Gates v W. B. A. Res.			£62.6.5
		B. B. C. Facilities fee			£5.5.0
			A cheque was signed for:-
		Theo. Kelly	Wages & Xes.		£370.0.0
			Bank Balance £29,903.8.2 Dr.

Medical			Secy. reported Trentham to be comfortable
		after his operation & all other players fit.

Teams			Following teams were chosen:-
		v Charlton Ath. (h) 17th inst.
		Sagar, Cook, Greenhalgh, Mercer, Jones T. G., Thomson,
		Gillick, Bentham, Lawton, Stevenson, Boyes. Res. Watson.
		v Newcastle Utd. Res. (a)
		Morton, Jackson, Jones J. E., Britton, Gee, Milligan,
		Merritt, Cunliffe, Bell, Sharp, H. Roberts. Res. J. W. Davies

Dr. to Newcastle	Messrs W. C. Gibbins & W. R. Williams.

Scotland v Hungary	Messrs A. Coffey & G. Evans gave report of
		this International match.

Sweeney			Messrs Gibbins & Williams gave good
		opinions of this player & it was decided to offer
		him an engagement at wages not more than £2 per week.

Keenan (Hereford)	Mr. H. Hart stated he thought this
		outside left should be seen again.

Somerfield (M'field)	Mr. T. Fleetwood gave a further poor
		report of this C. F.



A

. 

Johnson

 I. C. L.	Mr. R. Bentham gave a very good
		report of this 18, 5'8" & 10st 10 O. R.