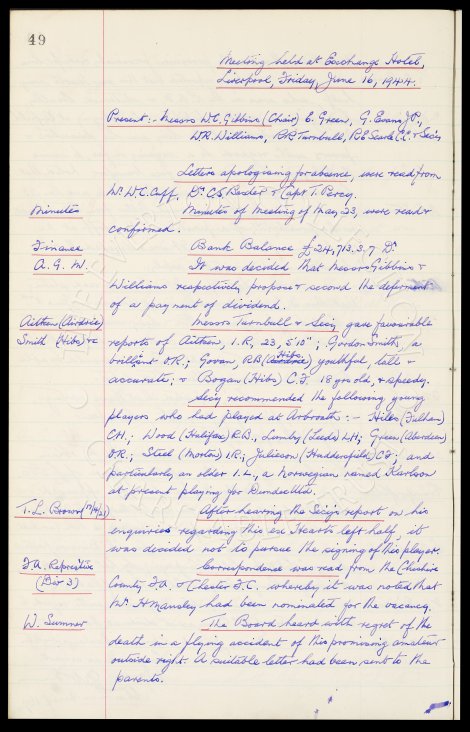 49

			[Meeting held at Exchange Hotel,
			Liverpool, Friday, June 16, 1944]

		Present:- Messrs W. C. Gibbins (Chair), E. Green, G. Evans J. P.,
			W. R. Williams, R. R. Turnbull, R. E. Searle C. C. & Secy.

			Letters apologising for absence, were read from
		Mr. W. C. Cuff, Dr. C. S. Baxter & Capt. T. Percy.

Minutes			Minutes of Meeting of May 23, were read &
		confirmed.

Finance			Bank Balance £24,713.3.7 Dr.

A.G.M.			It was decided that Messrs Gibbins &
		Williams respectively propose & second the deferment
		of a payment of dividend.

Aitken (Airdrie) 	Messrs Turnbull & Secy. gave favourable
Smith (Hibs) &c. reports of Aitken, I. R., 23, 5'10"; Gordon Smith, a
		brilliant O. R.; Govan, R. B. (Hibs) youthful, tall &
		accurate; & Bogan(Hibs) C. F. 18 yrs. old, & speedy.
			Secy. recommended the following young
		players who had played at 

Arbroath

:- Hills (Fulham)
		C. H.; Wood (Halifax) R. B.; Lumby (Leeds) L. H.; Green (Aberdeen)
		O. R.; Steel (Morton) I. R.; Julieson (Huddersfield) C .F.; and
		particularly an older I. L., a Norwegian named Karlson
		at present playing for Dundee Utd.

T. L. Brown(17/4/21)	After Leaving the Secy.'s report on his
		inquiries regarding this ex Hearts left half, it
		was decided not to pursue the signing of this player.

F.A. Repres'tive	Correspondence was read from the Cheshire
(Div. 3)	County F.A. & Chester F.C. whereby it was noted that
		Mr. H. Mansley had been nominated for the vacancy.

W. Summer		The Board heard with regret of the
		death in a flying accident of this promising amateur
		outside right. A suitable letter had been sent to the
		parents.