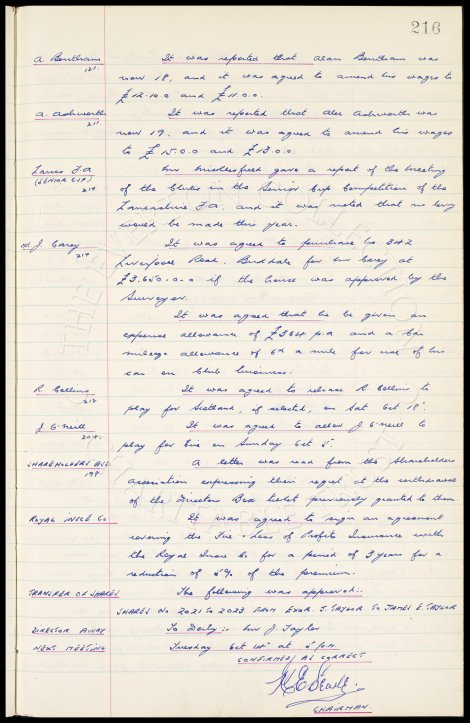 216

A Bertham		It was reported that Alan Bertham was
121		now 18, and it was agreed to amend his wages to
		£12.10.0 and £11.0.0.

A. Ashworth		It was reported that Alex Ashworth was
211		now 19, and it was agreed to amend his wages
		to £15.0.0 and £13.0.0.

Lancs. F.A.		Mr. Micklesfield gave a report of the meeting
(SENIOR CUP)	of the Clubs in the Senior Cup Competition of the
214		Lancashire F.A., and it was noted that no levy
		would be made this year.

MR. J. Carey		It was agreed to purchase No. 342
214		Liverpool Road, 

Birkdale

 for Mr. Carey at
		£3,650.0.0 if the house was approved by the
		surveyor.
			It was agreed that he be given an
		expenses allowance of £364 p.a. and a Car
		mileage allowance of 6d. a mile for use of his
		car on Club Business.

R. Collins		It was agreed to release R. Collins to
212		play for Scotland, if selected, on Sat Oct. 18th.

J. O'NEILL		It was agreed to allow J. O'Neill to
204		play for Eire on Sunday Oct. 5th.

SHAREHOLDERS ASS.	A letter was read from the Shareholders
198		Association expressing their regret at the withdrawal
		of the Directors Box tickets previously granted to them
	
ROYAL INSCE CO.		It was agreed to sign an agreement
		covering the Fire & Loss of Profits Insurance with
		the Royal Insce. Co. for a period of 3 years for a
		reduction of 5% of the premium.

TRANSFER OF SHARES	The following was approved:-
		SHARES NO. 2021 TO 2023 FROM EXOR. J. TAYLOR TO JAMES E. TAYLOR

DIRECTOR AWAY		To Derby:- Mr. J. Taylor

NEXT MEETING		Tuesday Oct. 14th at 5 p.m.

				CONFIRMED AS CORRECT

					R. E. Searle

					    CHAIRMAN.