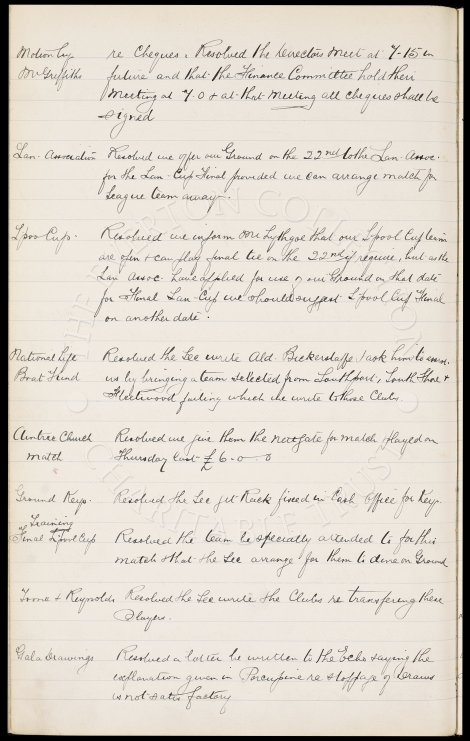 Motion by	re Cheques - Resolved the Directors meet at 7-15 in
Mr. Griffiths	future and that the Finance Committee hold their
		meeting at 7-0 & at that meeting all cheques shall be
		signed.

Lan. Association Resolved we offer our Ground on the 22nd to the Lan. Assoc.
		for the Lan. Cup Final provided we can arrange match for
		League team away.

L'pool Cup	Resolved we inform Mr Lythgoe that our L'pool Cup team
		are open & can play final tie on the 22nd if require, but as the
		Lan. Assoc. have applied for use of our Ground on that date
		for Final Lan. Cup we should suggest L'pool Cup Final
		on another date.

National Life	Resolved the Sec. write Ald. Bickerstaffe & ask him to assist
Boat fund	us by bringing a team selected from Southport, South Shore &
		Fleetwood failing which we write to those Clubs.

Aintree Church	Resolved we give them the nett gate for match played on
match		Thursday last £6.0.0.

Ground Keys	Resolved the Sec. get rack fixed in cash office for Keys.

Final Training L'pool Cup Resolved the team be specially attended to for this
			match & that the Sec. arrange for them to dine on Ground.

Toone & Reynolds Resolved the Sec. write the clubs re transferring these
		players.

Gala Drawings	Resolved a letter be written to the Echo saying the
		explanation given in Porcupine re stoppage of Draws
		is not satisfactory.