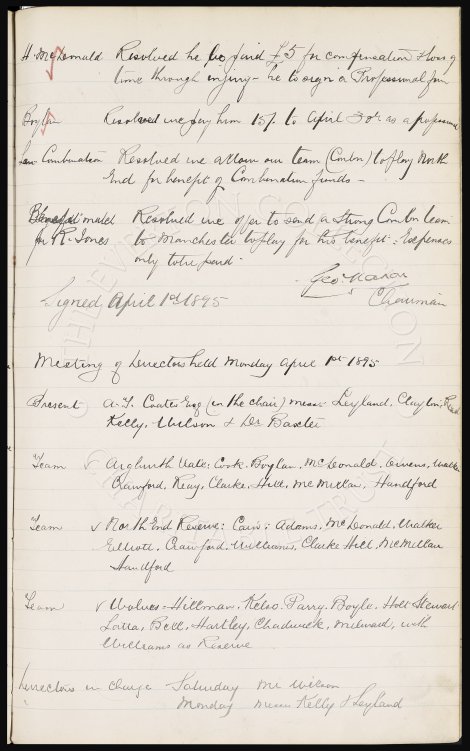 H. McDonald	Resolved he be paid £5 for compensation & loss of
		time through injury. He to sign a Professional form.

Boylan		Resolved we pay him 15/- to April 3rd as a Professional.

Lan. Combination Resolved we allow our team (Combn.) to play North
		End for benefit of Combination funds.

Benefit Match	Resolved we offer to send a strong Combn. team
for R. Jones	to Manchester to play for his benefit. Expenses
		only to be paid.
						Geo Mahon
Signed April 1st 1895					Chairman



Meeting of Directors held Monday April 1st 1895



Present		A. T. Coates Esq. (in the chair) Messrs Leyland, Clayton, Read,
		Kelly, Wilson & Dr. Baxter.

Team	v	Aigburth Vale - Cook, Boylan, McDonald, Owens, Walker,
		Crawford, Reay, Clarke, Hill, McMillan, Handford.

Team	v	North End Reserve - Cain, Adams, McDonald, Walker,
		Elliott, Crawford, Williams, Clarke, Hill, McMillan,
		Handford.

Team	v	Wolves - Hillman, Kelso, Parry, Boyle, Holt, Stewart,
		Latta, Bell, Hartley, Chadwick, Milward, with
		Williams as Reserve.

Directors in charge Saturday Mr. Wilson
		    Monday Messrs Kelly & Leyland.