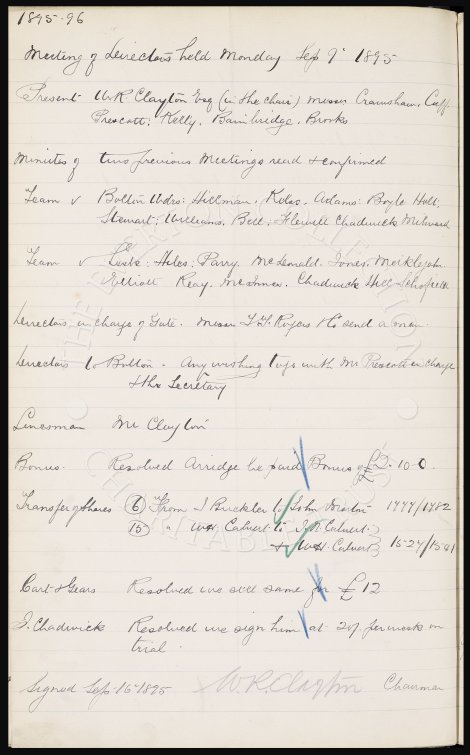 1895-96



Meeting of Directors held Monday Sep. 9th 1895



Present		W. R. Clayton Esq. (in the chair) Messrs Crawshaw, Cuff,
		Prescott, Kelly, Bainbridge, Brooks.

Minutes of	two previous meetings read & confirmed.

Team	v	Bolton Wdrs - Hillman, Kelso, Adams, Boyle, Holt,
		Stewart, Williams, Bell, Flewitt, Chadwick, Milward.

Team	v	Leek - Hiles, Parry, McDonald, Jones, Meiklejohn,
		Elliott, Reay, McInnes, Chadwick, Hill, Schofield.

Directors in charge of Gate - Messrs T. T. Rogers & Co. send a man.

Directors to Bolton - any wishing to go with Mr. Prescott in charge
		& the Secretary.

Linesman	Mr. Clayton.

Bonus		Resolved Arridge be paid Bonus of £2.10.0.

Transfer of shares 6 from J. Buckler to John Morton	1777/1782
		  15 ''   W.H. Calvert to J.N. Calvert}
					& W.H. Calvert}	1527/1541

Cart & Gears	Resolved we sell same for £12.

J. Chadwick	Resolved we sign him at 20/- per week on
		trial.

Signed Sep. 16th 1895		W. R. Clayton	Chairman.