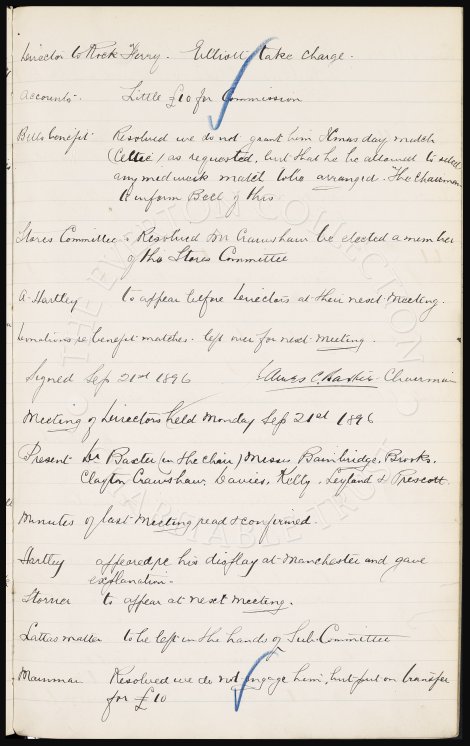 Director to Rock Ferry - Elliott take charge.

Accounts	Little £10 for Commission.

Bell's benefit	Resolved we do not grant him Xmas day match
		(Celtic) as requested, but that he be allowed to select
		any midweek match to be arranged. The Chairman
		to inform Bell of this.

Stores Committee Resolved Mr. Crawshaw be elected a member
		of the Stores Committee.



A

. 

Hartley

	to appear before Directors at their next Meeting.

Donation re benefit Matches - left over for next meeting.

Signed Sep. 21st 1896			James C. Baxter	Chairman



Meeting of Directors held Monday Sep. 21st 1896



Present		Dr. Baxter (in the chair) Messrs Bainbridge, Brooks,
		Clayton, Crawshaw, Davies, Kelly, Leyland & Prescott.

Minutes of last meeting read & confirmed.

Hartley		appeared re his display at Manchester and gave
		explanation.

Storrier	to appear at next meeting.

Latta's Matter	to be left in the hands of Sub Committee.

Mainman		Resolved we do not engage him, but put on transfer
		for £10.