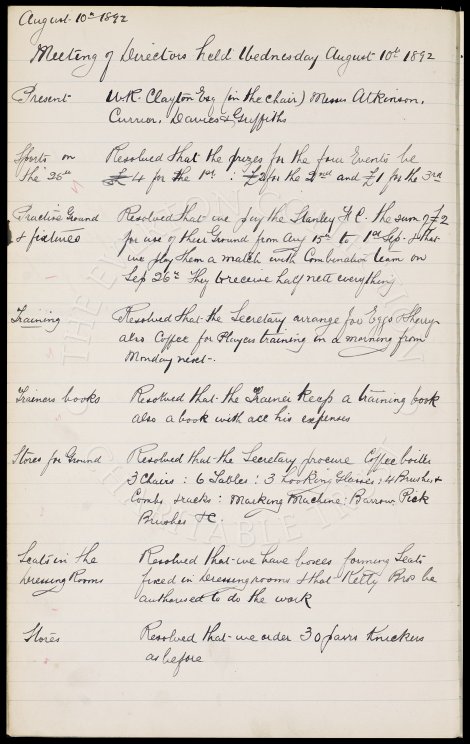 August 10th 1892



Meeting of Directors held Wednesday August 10th 1892



Present		W. R. Clayton Esq. (in the chair) Messrs Atkinson,
		Currier, Davies & Griffiths.

Sports on	Resolved that the prizes for the four Events be
the 25th	£4 for the 1st; £2 for the 2nd and £1 for the 3rd.

Practise Ground	Resolved that we pay the Stanley F.C. the sum of £2
& fixtures	for use of their Ground from Aug 15th to 1st Sep. & that
		we play them a match with Combination team on
		Sep 26th. They to receive half nett everything.

Training	Resolved that the Secretary arrange for Eggs & Sherry
		also coffee for Players training in a morning from
		Monday next.

Trainer's books	Resolved that the trainer keep a training book
		also a book with all his expenses.

Stores for Ground Resolved that the secretary procure Coffee boiler
		  3 Chairs: 6 Tables: 3 Looking Glasses: 4 Brushes &
		  Combs & racks: Marking Machine: Barrow Pick
		  Brushes &c.

Seats in the	Resolved that we have boxes forming Seats
Dressing Rooms	fixed in dressing rooms & that Kelly Bros. be
		authorised to do the work.

Stores		Resolved that we order 30 pairs Knickers
		as before.