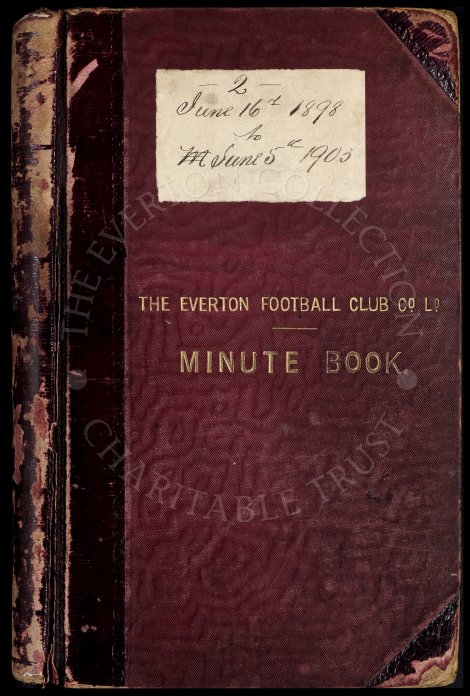 See other pages by clicking on Next or by
entering a page number and clicking Go.
Contains minutes of general meetings, emergency meetings, annual general meetings, and special meetings. 6 Apr 1899 resolved that a letter be sent to W. R. Clayton who had resigned as Chairman. 2 May 1901 agreed that the directors did not support the proposal to extend the Football League to 20 clubs. 2 Jul 1901 it was agreed to install a concrete bath, but not to proceed with licensed refreshment bars on the premises. 11 Sep 1901 R. Molyneux, the Secretary, was suspended. 17 Sep 1901 R. Molyneux's resignation was accepted. 19 Nov 1901 J. Maley appointed Team Manager. 8 Apr 1902 it was agreed to offer the ground and team in aid of the supporters in the Ibrox disaster. 10 Jun 1902 William C. Cuff and J. Elliott suspended for 6 months by the F.A. 13 Jan 1903 W. R. Clayton was asked to ascertain the cost of a continental tour. Minutes signed by William R. Clayton, Dr. James C. Baxter, B. Kelly, John Davies, A. T. Coates. Results for Seasons 1897-98, 1898-99, 1899-1900, 1900-01 pasted on front flyleaf. Letters giving notice of the A.G.M. including balance sheet pasted in next to the minutes of the A.G.M.s held on 18 May 1899, 22 May 1900, 3 Jun 1901, 6 Jun 1902, 5 Jun 1903.
Permission to reproduce an image for anything other than private use must be obtained from the Everton Collection Charitable Trust