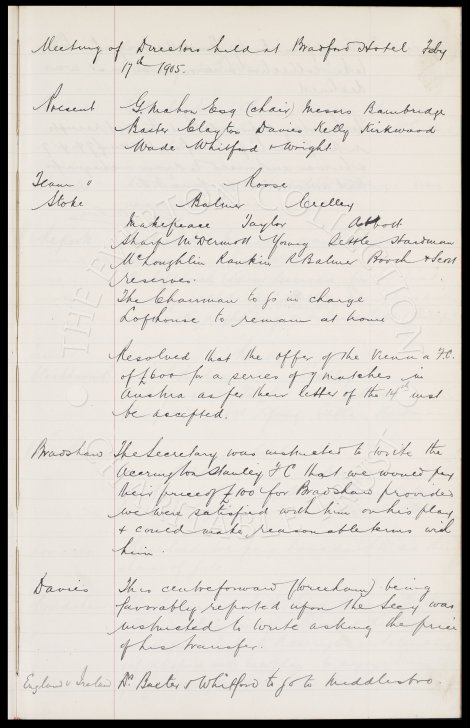 [Meeting of Directors held at Bradford Hotel Feby.
		17th 1905]

Present		G. Mahon Esq. (chair) Messrs Bainbridge,
		Baxter, Clayton, Davies, Kelly, Kirkwood,
		Wade, Whitford & Wright.

Team v				Roose
Stoke			Balmer		Crelley
		Makepeace	Taylor		Abbott
		Sharp	McDermott  Young  Settle  Hardman
		McLoughlin  Rankin  R. Balmer  Booth & Scott
		reserves.
		The Chairman to go in charge.
		Lofthouse to remain at home.

		Resolved that the offer of the Vienna F.C.
		of £600 for a series of 7 matches in 
		Austria as per their letter of the 14th inst.
		be accepted.

Bradshaw	The Secretary was instructed to write the
		

Accrington

 

Stanley

 F.C. that we would pay
		their price of £100 for Bradshaw provided
		we were satisfied with him or his play
		& could make reasonable terms with
		him.

Davies		This centre forward (Wrexham) being
		favorably reported upon the Secy. was
		instructed to write asking the price
		of his transfer.

England v Ireland Dr. Baxter & Whitford to go to Middlesbro.