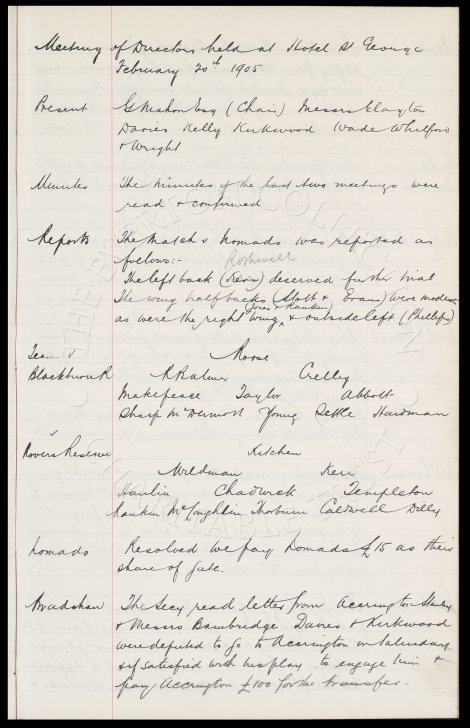 [Meeting of Directors held at Hotel St. George
		February 20th 1905]

Present		G. Mahon Esq. (Chair) Messrs Clayton,
		Davies, Kelly, Kirkwood, Wade, Whitford
		& Wright.

Minutes		The minutes of the last two meetings were
		read & confirmed.

Reports		The match v Nomads was reported as
		follows:-     Rothwell
		The left back (Kerr) deserved further trial.
		The wing half backs (Stott & Evans) were moderate
		as were the right wing (Jones & Rankin) & outside left (Phillips)

Team v				Roose
Blackburn R.		R. Balmer	Crelley
		Makepeace	Taylor		Abbott
		Sharp	McDermott   Young  Settle	Hardman
v
Rovers Reserve			Kitchen
			Wildman		Kerr
		Hanlin		Chadwick	Templeton
		Rankin	McLoughlin  Thorburn  Caldwell	Dilly

Nomads		Resolved we pay Nomads £15 as their
		share of gate.

Bradshaw	The Secy. read letter from 

Accrington

 

Stanley


		& Messrs Bainbridge, Davies & Kirkwood
		were deputed to go to Accrington on Saturday
		& if satisfied with his play to engage him &
		pay Accrington £100 for the transfer.