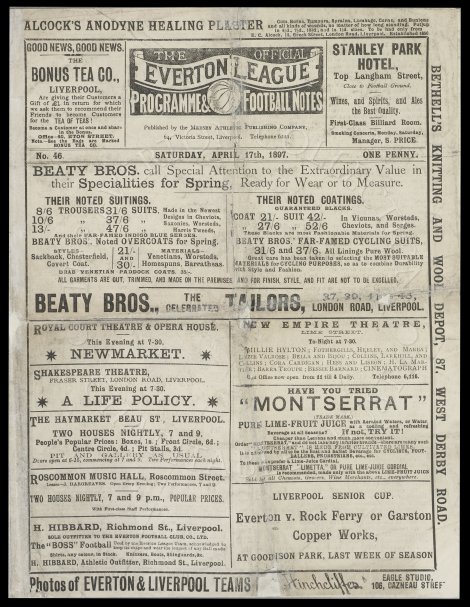 See other pages by clicking on Next or by
entering a page number and clicking Go.
Programme - Everton v West Bromwich Albion
Includes illustration Bravo Everton! Play Up, Liverpool!! Smart Arridge has just passed to Johnnie Holt, who is upset by McCartney, but Stewart is not going to let him have all his own way, and if he secures the ball Milward will help him on. McVean is ready to receive. Everton defeated West Bromwich Albion 6-3, with Bell (3), Chadwick, Milward and Taylor scoring the goals for Everton.
Sam
Wolstenholme
Jack Robertson
Willie Muir
Rab McFarlane
S Keeley
Ellis Gee
John Divers
Laurie Bell
John Barlow
William Balmer
Jack Taylor
George Molyneux
Peter Meecham
George Barker
Alf Schofield
John Cameron
Bill Williams
David Storrier
Billy Stewart
Abe Hartley
Dickie Boyle
John Bell
Johnny Holt
Edgar Chadwick
Permission to reproduce an image for anything other than private use must be obtained from the Everton Collection Charitable Trust