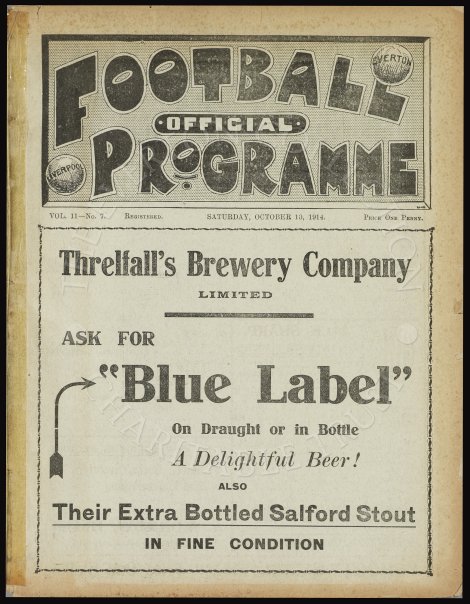 See other pages by clicking on Next or by
entering a page number and clicking Go.
Programme - Everton v Bradford
Everton & Liverpool joint programme. Everton defeated Bradford 4-1, with Parker (2), Chedgzoy and Gaft scoring the goals for Everton. Everton won the 1st Division in 1914-15 by 46 points, 1 point ahead of runners-up, Oldham Athletic.
Bill Wright
Jas Roberts
Billy Kirsopp
Horace Howarth
Jimmy
Galt
William Brown
Bob Thompson
Bill Palmer
Bobby Parker
Jack Page
Tommy Nuttall
Frank Mitchell
George Harrison
Tommy Fern
Joe Clennell
Billy Wareing
Bobby Simpson
Johnny Houston
Ernie Gault
Frank Jefferis
Alan Greyner
Tom Fleetwood
Sam Chedgzoy
Louis Weller
Val Harris
Jock Maconnachie
Harry Makepeace
Permission to reproduce an image for anything other than private use must be obtained from the Everton Collection Charitable Trust