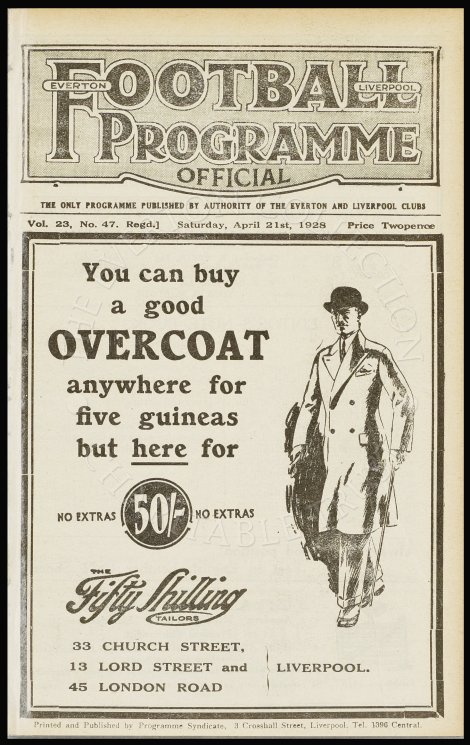 See other pages by clicking on Next or by
entering a page number and clicking Go.
Programme - Everton v Aston Villa
Everton & Liverpool joint programme. Everton defeated Aston Villa 3-2, with Dean (2) and Weldon scoring the goals for Everton, in front of 29,825 spectators. Everton won the 1st Dvision in 1927-28 by 53 points, 2 points ahead of runners-up, Huddersfield Town.
Jimmy Stein
Harry Ritchie
Tommy Lewis
Andy Kennedy
Jimmy Dunn
Ted Common
Arthur Attwood
Tommy White
George Martin
Bill Easton
Tony Weldon
Jerry
Kelly
Tom Griffiths
Dick Forshaw
Ted Critchley
Arthur Davies
Warneford Cresswell
William Ralph Dean
Albert Virr
Walter Rooney
Jack O'Donnell
Alex Troup
Bobby Irvine
Hunter Hart
Permission to reproduce an image for anything other than private use must be obtained from the Everton Collection Charitable Trust