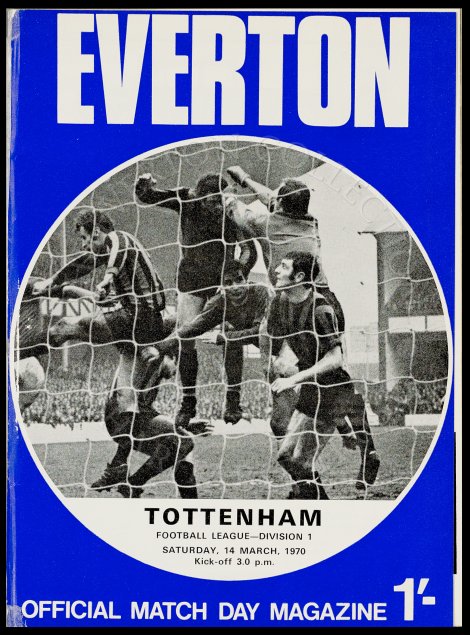 See other pages by clicking on Next or by
entering a page number and clicking Go.
Programme - Everton v Tottenham Hotspur
Everton defeated Tottenham Hotspur 3-2, with Ball, Royle and Whittle scoring the goals for Everton, in front of 51,533 spectators. Everton won the 1st Division in 1969-70 by 66 points, 9 points ahead of runners-up, Leeds United.
Mick Lyons
Billy Kenny
Gary Jones
Dai Davies
David Johnson
Keith Newton
Alan Whittle
Dave Turner
Terry Owen
Aiden
Maher
Roger Kenyon
Howard Kendall
Tommy Jackson
Terry Darracott
Alan Ball
Joe Royle
John Hurst
Frank Darcy
Tommy Wright
Jimmy Husband
Andy Rankin
Sandy Brown
Gordon West
Johnny Morrisey
Colin Harvey
Brian Labone
Permission to reproduce an image for anything other than private use must be obtained from the Everton Collection Charitable Trust