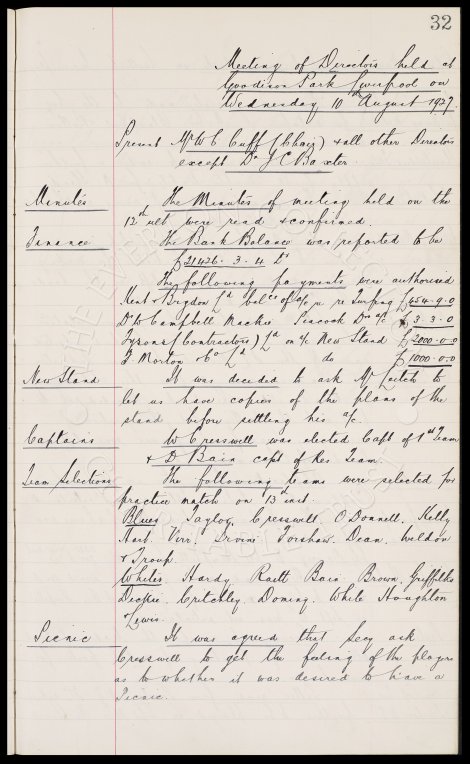 32

			[Meeting of Directors held at
			Goodison Park Liverpool on
			Wednesday 10th August 1927]

		Present	Mr. W. C. Cuff (Chair) & all other Directors
			except Dr. J. C. Baxter.

Minutes			The Minutes of meeting held on the
		12th ult. were read & confirmed.

Finance			The Bank Balance was reported to be
			£21426.3.4 Dr.
			The following payments were authorized
		Kent & Brydon Ld. balce. of a/c re re Turfing	£ 454.9.0
		Dr. W. Campbell Mackie	Peacock Drs. a/c	£   3.3.0
		Tysons (Contractors) Ld. on a/c New Stand	£2000.0.0
		F. Morton & Co. Ld.		do		£1000.0.0

New Stand		It was decided to ask Mr. Leitch to
		let us have copies of the plans of the
		stand before setting his a/c.

Captains		W. Cresswell was elected Capt. of 1st Team
		& D. Bain Capt. of Res. Team.

Team Selections		The following teams were selected for
		practice match on 13th inst.
		Blues - Taylor, Cresswell, O'Donnell, Kelly,
		Hart, Virr, Irvine, Forshaw, Dean, Weldon
		& Troup.
		Whites - Hardy, Raitt, Bain, Brown, Griffiths,
		Dickie, Critchley, Dominy, White, Houghton
		& Lewis.

Picnic			It was agreed that Secy. ask
		Cresswell to get the feeling of the players
		as to whether it was desired to have a
		Picnic.