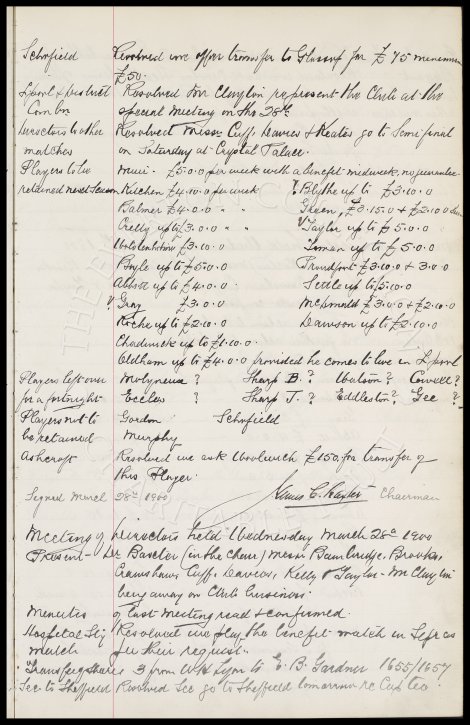 Schofield	Resolved we offer transfer to Glossop for £75 minimum
		£50.

L'pool & District Resolved Mr. Clayton represent the Club at the
Combn.		special meeting on the 28th.

Directors to other Resolved Messrs Cuff, Davies & Keates go to Semi final
Matches		on Saturday at Crystal Palace.

Players to be		Muir	£5.0.0 per  week with a benefit midweek, no guarantee.
retained next season	Kitchen £4.10.0 per week	?Blythe up to £3.10.0
			Balmer	£4.0.0   "   "		Green £3.15.0 & £2.10.0 Sum
			Crelly up to £3.0.0 " "		?Taylor up to £5.0.0
			Wolstenholme £3.10.0 " "	Toman up to £5.0.0
			Boyle up to £5.0.0		Proudfoot £3.10.0 & 3.0.0
			Abbott up to £4.0.0		Settle up to £5.10.0
			? Gray	     £3.0.0		McDonald £3.0.0 & £2.10.0
			Roche up to £2.10.0		Dawson up to £2.10.0
			Chadwick up to £1.10.0
			Oldham up to £4.0.0 provided he comes to live in L'pool.

Players left over Molyneux ?	Sharp B.?	Watson?		Cowell?
for a fortnight	  Eccles ?	Sharp J.?	Eddleston?	Gee?

Players not to	Gordon	Schofield
be retained	Murphy



Ashcroft

	Resolved we ask Woolwich £150 for transfer of
		this player.

Signed March 28th 1900		James C. Baxter	Chairman



Meeting of Directors held Wednesday March 28th 1900



Present		Dr. Baxter (in the chair) Messrs Bainbridge, Brooks,
		Crawshaw, Cuff, Davies, Kelly & Taylor. Mr. Clayton
		being away on club's business.

Minutes		of last meeting read & confirmed.

Hospital Sty.	Resolved we play the benefit match in Sepr. as
Match		per their request.

Transfer of Shares 3 from W. H. Lyon to E. B. Gardner	1655/1657

Sec. to Sheffield Resolved Sec. go to Sheffield tomorrow re Cup Tie.