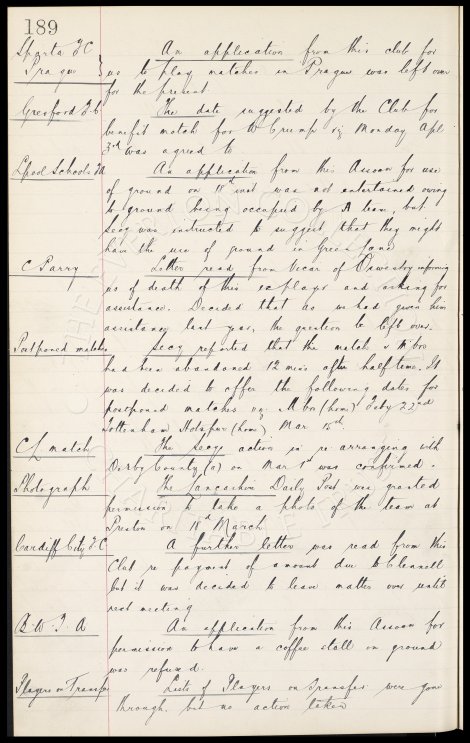 189

Sparta F.C.	)	An application from this club for
Prague		) us to play matches in Prague was left over
		for the present.

Gresford F.C.		The date suggested by the Club for
		benefit match for W. Crump viz. Monday Apl.
		3rd was agreed to.

L'pool Schools F.A.	An application from this Assocn. for use
		of ground on 18th inst. was not entertained owing
		to ground being occupied by A team, but
		Secy. was instructed to suggest that they might
		have the use of ground in Green Lane.

C. Parry		Letter read from Vicar of Oswestry informing
		us of death of this ex-player and asking for
		assistance. Decided that as we had given him
		assistance last year, the question be left over.

Postponed Matches	Secy. reported that the match v M'bro
		had been abandoned 12 mins after half time. It
		was decided to offer the following dates for
		postponed matches viz. M'bro (home) Feby. 22nd
		Tottenham Hotspur (home) Mar. 15th.

C.L. match		The Secy's. action in re arranging with
		Derby County (a) on Mar. 1st was confirmed.

Photograph		The Lancashire Daily Post was granted
		permission to take a photo of the team at
		Preston on 18th March.

Cardiff City F.C.	A further letter was read from this
		Club re payment of amount due to Clennell
		but it was decided to leave matter over until
		next meeting.

B.W.F.A.		An application from this Assocn. for
		permission to have a coffee stall on ground
		was refused.

Players on Transfer	Lists of Players on Transfer were gone
		through, but no action taken.