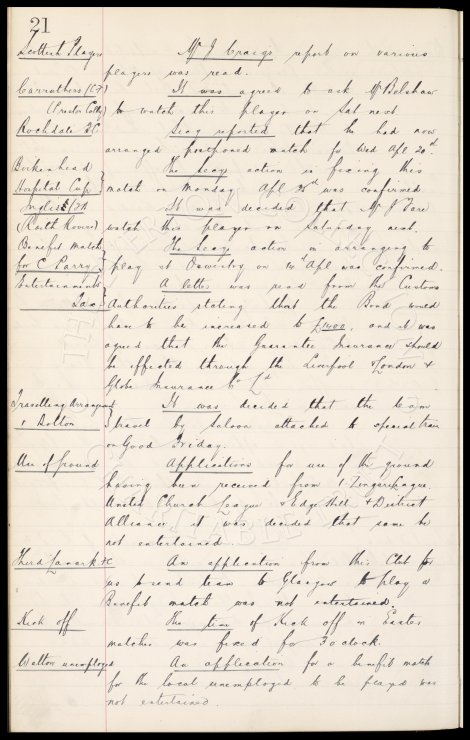 21

Scottish Players	Mr. J. Craig's report on various
		players was read.

Carruthers (C. F.)	It was agreed to ask Mr. Belshaw
(Preston Colly) to watch this player on Sat. next.

Rochdale F. C.		Secy. reported that he had now
		arranged postponed match for Wed. Apl. 20th.

Birkenhead		The Secy.'s action in fixing this
Hospital Cup	match on Monday Apl. 25th was confirmed.

Inglis (F. B.)		It was decided that Mr. J. Fare
(Raith Rovers)	watch this player on Saturday next.

Benefit Match		The Secy.'s action in arranging to
for C. Parry	play at Oswestry on 14th Apl. was confirmed.

Entertainments		A letter was read from the Customs
Tax		Authorities stating that the Bond would
		have to be increased to £1400, and it was
		agreed that the Guarantee Insurance should
		be effected through the Liverpool & London &
		Globe Insurance Co. Ld.

Travelling Arrangement  It was decided that the team
v Bolton	travel by Saloon attached to special train
		on Good Friday.

Use of Ground		Applications for use of the ground
		having been received from I Zingari League
		United Church League & Edge Hill & District
		Alliance, it was decided that same be
		not entertained.

Third Lanark F. C.	An application from this Club for
		us to send team to Glasgow to play a
		Benefit match was not entertained.

Kick off		The time of Kick off in Easter
		matches was fixed for 3 O'clock.

Walton unemployed	An application for a benefit match
		for the local unemployed to be played was
		not entertained.