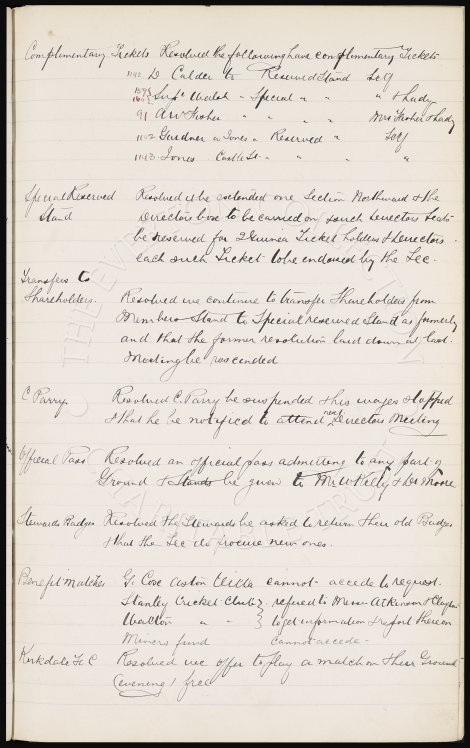 Complimentary Tickets Resolved the following have complimentary Tickets
		1142  D Calder     to   Reserved Stand  Self
		 159  Supt Walsh   "  Special "     "	   "  & Lady
		 160
		  91 A. W. Fisher  "     "    "     "	     Mrs. Fisher & Lady
		1102 Gardner W. Jones	"  Reserved  "		Self
		1143 Jones   Castle St. "     "	     "		 "

Special Reserved Resolved it be extended one section northward & the
Stand		Directors box to be carried on & such Directors seats
		be reserved for 2 Guinea. Tickets holders & Directors
		each such Ticket to be endowed by the Sec.

Transfers to		
Shareholders	Resolved we continue to transfer Shareholders from
		Members Stand to Special Reserved Stand as formerly
		and that the former resolution laid down at last
		Meeting be rescinded.

C. Parry	Resolved C. Parry be suspended & his wages stopped
		& that he be notified to attend next Directors Meeting.

Official Pass	Resolved an official pass admitting to any part of
		Ground & Stands be given to Mr. W. Kelly & Dr. Moore.

Stewards Badges	Resolved the Stewards be asked to return their old Badges
		& that the Sec. do procure new ones.

Benefit Matches	G. Cox Aston Villa cannot accede to request.
		Stanley Cricket Club referred to Messrs Atkinson & Clayton
		Walton    "      "   to get information & report thereon
		Minors Fund	     cannot accede.

Kirkdale F.C.	Resolved we offer to play a match on their ground
		(evening) free.