What happened in Everton's history this week?

29 March 1884 -
Everton win their first ever cup, beating Earlestown 1-0 in the final of the Liverpool Cup at Bootle. The trophy was presented to Club President, John Houlding.
See all Earlestown memorabilia here.
30 March 1907
- Everton defeat Sunderland 4-1, keeping the FA Cup and League double in sight. Five days earlier, they booked their place in the Cup Final after defeating West Bromwich Albion 2-1. With this victory over Sunderland, they kept the pressure on Manchester United at the top of the table.
Read the 1907 Sunderland programme here.
31 March 1894
- Goodison Park host the FA Cup Final between Notts County and Bolton Wanderers, wirth a crowd of 37,000 present to see County win 4-1.
31 March 1906 -
Everton knock Liverpool out of the Cup in 2-0 Semi-Final victory at Villa Park. Goals came from Walter Abbott and Harold Hardman.
1 April 1957
- John Bailey is born in Liverpool. Bailey moved from Blackburn Rovers to Everton in July 1979 for £300,000. He made 220 appearances for Everton, winning the FA Cup in 1984.
See all John Bailey memorabilia here.
2 April 1934
- Jack Jones makes his Everton debut against Leeds United, helping the Blues to a 2-0 victory. Jones began his career as a centre-forward but was successfully moved to full-back, going on to make 108 appearances for Everton before moving to Sunderland in 1938.
Read the 1934 Leeds United programme here.
3 April 1940
- Alex Stevenson puts four past Stockport in the War League, helping Everton to a 7-0 victory at Goodison, with other goals from Tommy Lawton (two) and Tom Wyles.
See all Alex Stevenson memorabilia here.
4 April 1896
- John Bell becomes Everton's first player to represent Scotland. Bell helped Scotland defeat England 2-1 in Glasgow. He joined Everton from Dumbarton in 1892 and won three Scottish international caps whilst at Goodison. He made 199 Everton appearances, scoring 70 goals.
See all John Bell memorabilia here.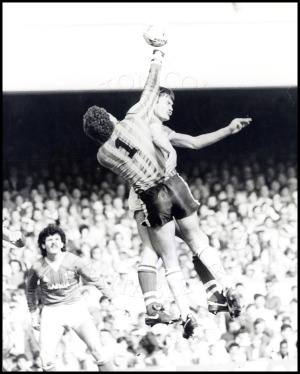 John Bailey celebrating winning the 1984 FA Cup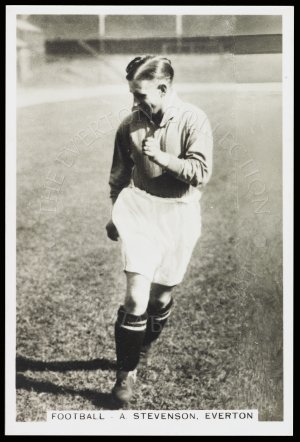 Alex Stevenson