What happened in Everton's history this week?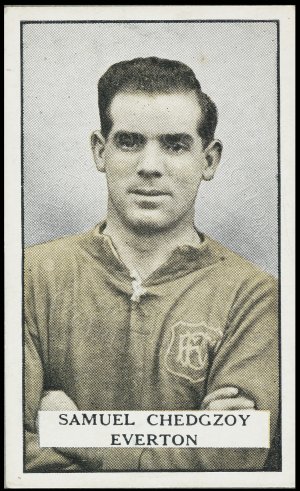 12 April 1924 -
Sam Chedgzoy dribbles from his own corner kick and scores against Spurs! Chedgzoy dribbled the ball from the corner spot, past defenders to score the goal, which the referee allowed. The laws of the game did not stipulate that the player taking the corner kick could only touch the ball once before it needed to be played by another player. This rule was changed at the end of the season!
Read the Spurs programme for this match here.
12 April 1973
- Harry Catterick appointed general manager of Everton F.C. The club advertised for a 'track suit' team manager following Catterick's recent heart attach.
See all Harry Catterick memorabilia here.
12 April 1980
- Everton draw 1-1 with West Ham in FA Cup Semi-Final. A crowd of 47,685 were at Villa Park, with Brian Kidd scoring in the first half, but then getting sent off in the second.
Read the 1980 Semi-Final programme here.
13 April 1977 -
Everton lose 3-2 to Villa in League Cup Final, 2nd Replay. After 2 draws at Wembley and Hillsborough, Everton and Villa met for the third time in the League Cup Final at Old Trafford. It was decided the match would go to penalties if it finished with another draw. Latchford and Lyons scored Everton's goals, but they weren't enough, after Brian Little scored the winner in the closing minutes.
Read the 1977 League Cup Final programme here.
14 April 1937
- Roy Vernon is born in Hollywell. Vernon was transferred from Blackburn Rovers to Everton for £27,000. He went on to captain Everton and guide them to the League title in 1963 before moving on to Stoke in 1965.
See all Roy Vernon memorabilia here.
15 April 1989
- Everton defeat Norwich City 1-0 in FA Cup Semi-Final.
Read the Semi-Final match programme here.
Pat Nevin's goal took Everton through to the Final, but celebrations soon ended after hearing the tragic news that 96 Liverpool fans had died in the Hillsborough tragedy.
16 April 1932
- Dixie Dean scores hat-trick in 6-1 win over West Ham. Everton's other goals came from Tommy Johnson (two) and Jimmy Stein. Although Everton were to score only one more goal in the final four games of the campaign, it was enough to win the League.
Read the 1932 West Ham match programme here.
17 April 1908
- Bert Freeman makes first League appearance in a goalless draw at Anfield. Freeman went on to make 94 first-team appearances.
See all Bert Freeman memorabilia here, including the Anfield programme from his 1908 League debut.
18 April 1940
- Johnny Morrissey is born in Liverpool. Morrissey moved from Liverpool to Everton in 1962 for a cut-price fee of £10,000. He went on to win the League title in 1963 and 1970. He moved to Oldham Athletic in 1972.
See all Johnny Morrissey memorabilia here.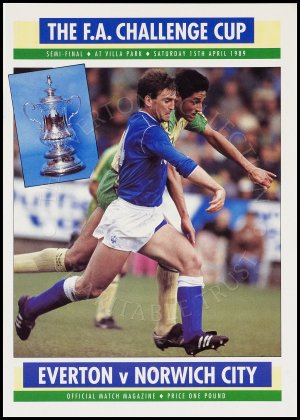 Roy Vernon