What happened in Everton's History this week?

5 July 1985 -
Everton signed Leicester City striker Gary Lineker for a fee of £800,000. This was £425,000 less than Leicester City had originally asked for the player. A year later Everton made a healthy profit by selling Lineker to Barcelona for over £2 million. Whilst at Everton Lineker scored 30 goals in 41 appearences.
See Gary Lineker memorabilia.
6 July 1988 -
After five years and 147 appearences for Everton Alan Harper was transferred to Sheffield Wednesday. Harper fulfilled both defensive and mid-field roles and played an important part in Howard Kendall's trophy run in the mid 1980s.
See Alan Harper memorabilia.
7 July 1986 -
Striker Neil Adams moves to Everton from Stoke City for a fee of £150,000. In 1987, his first season at Goodison Park, Harper won a League Championship medal after 10 appearences during the campaign. Adams also appeared in two Charity Shield Finals during his three years at the Club.
See Neil Adams memorabilia.
9 July 1977 -
Bryan Hamilton is sold to Millwall after two years and 54 appearences for Everton. Alongside his club career Hamilton won 50 caps for Northern Ireland between 1969 and 1980. He later went on to manage Tranmere Rovers and stayed at Prenton Park for five years.
Browse Bryan Hamilton memorabilia.
10 July 1967 -
Jimmy Gabriel is sold to Southampton after seven years and 300 appearences for Everton. Gabriel's career at Everton started when he was signed from Dundee for £8,000 in 1960. Gabriel was a strong influence on the Everton side and helped the Club to a League title in 1963 and an F.A. Cup win three years later.
See Jimmy Gabriel memorabilia.



11 July 1966 -
The eigth World Cup Finals begin in England. Goodison Park was selected to host a number of games and was nick-named 'Wembley of the North'.
See World Cup 1966 memorabilia.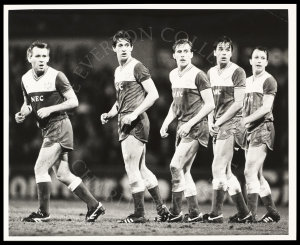 Peter Reid, Gary Lineker, Kevin Richardson, Graeme Sharp and Trevor Steven, 1986