What happened in Everton's history this week?

11 July 1965 -
Tony Cottee was born in London on this day in 1965. He made his move to Everton in 1988 for a fee of £2.3 million. After 200 appearences for Everton he returned to the club where he served his apprenticeship, West Ham United.
Explore Tony Cottee memorabilia
.
12 July 1913
- King George V and Queen Mary visit Goodison Park. Goodison became the first League ground to be visited by a reigning monarch, with King George V and Queen Mary coming to inspect local school children.
Read more about the 1913 Royal visit in the Club Minute Books.
13 July 1934 -
Future Everton Manager, Gordon Lee, was born on 13 July 1934. Formerly an Aston Villa player, Lee joined Everton as a manager in 1977 from Newcastle. After only leading Everton to 15th place in the First Division in the 1980/81 season he was sacked.
See Gordon Lee memorabilia.
15 July 1966
- Hungary beat Brazil 3-1 in a World Cup Group 3 match at Goodison Park. Although Hungary presented a powerful side, Brazil were also missing the injured Pele making a Hungarian victory more likely.
See World Cup 1966 memorabilia
.
16 July 1926
- Successful full-back Eric Moore was born in St Helens on this day in 1926. He made 184 appearences for Everton but asked for a transfer after he was dropped from the first team in 1956/57. After a short spell at Chesterfield, he returned to Merseyside to play for Tranmere Rovers.
See Eric Moore memorabilia
.
17 July 1990
- A fee of £800,000 brought Andy Hinchcliffe to Everton from Manchester City. He was part of the side that won the 1995 F.A. Cup and was also capped for England during his time at the club. After 170 appearences he left Everton to join Sheffield Wednesday.
See Andy Hinchcliffe memorabilia.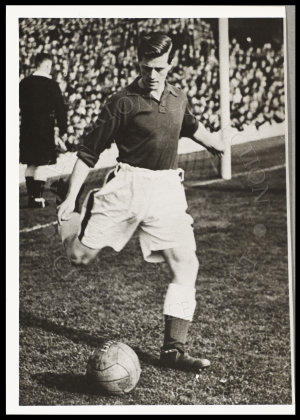 Eric Moore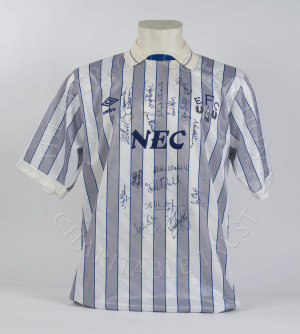 Everton F.C. Away Shirt, 1988-1990. Signed by Andy Hinchcliffe and other players.