What happened in Everton's history this week?

18th July 1995 -
Defender Craig Short was brought to Everton from Derby County for £2.7 million. He was regarded as one of the best defenders in the game and made 90 appearences for the club before leaving to join Blackburn Rovers in 1999.
Explore Craig Short memorabilia
.
19th July 1962 -
Future Everton player Paul Bracewell was born on this day in 1962. After time at Stoke City and Sunderland F.C., he moved to Everton in 1984 for a fee of £425,000. Although his career with Everton was effectively over after a serious injury left him out of the game for twenty months, he achieved a great deal in his first years at the club. He was a member of the side that won the League title and European Cup Winners' Cup in 1985.
See Paul Bracewell memorabilia.
20th July 1980
- Jim McDonagh signs for Everton for £250,000 from Bolton Wanderers. McDonagh made forty appearences for Everton in the 1980/81 season but was then replaced by Jim Arnold who stayed at the Club until 1985. Search
Jim McDonagh
or
Jim Arnold
memorabilia.
21st July 1995
- Gary Rowett sold to Derby County for £300,000 after just four League appearances for Everton.
Search Gary Rowett
.
22nd July 1981
- Bob Latchford left Everton for Swansea City for £125,000. During his 7 years at Goodison, Latchford scored 138 goals in 289 appearances. Even when he joined Swansea Latchford scored 12 in his first season in the top flight.
See Bob Latchford memorabilia.
23rd July 1966
- Portugal defeat North Korea 5-3 in World Cup quarter-final at Goodison. One of the most memorable matches ever staged at Goodison Park, North Korea were 3-0 ahead in the first 20 minutes. In the remaining 70 minutes Eusebio took over, scoring 4 times, twice from the penalty spot, to take Portugal to a semi-final clash with England.
See World Cup memorabilia.
24th July 1966
- Martin Keown, generally known for his career at Arsenal, was born on this day in 1966. He enjoyed a spell as an Everton player when he was brought to the club in 1989 from Aston Villa for a fee of £750,000. He returned to Arsenal in 1993. See
Martin Keown memorabilia
.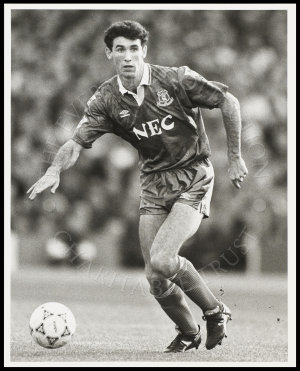 Martin Keown, 1992.