What Happened in Everton's History this Week?

15 August 1970 - In the first game of the 1970/71 season Everton managed a 2-2 draw with Arsenal at Goodison Park. Arsenal went on to become League Champions that season with Everton finishing in 14th position. See other Arsenal memorabilia.

16 August 1986 - With Liverpool achieving the double in 1985-86 at the expense of rivals Everton, the two clubs faced each other in the 1986-87 Charity Shield at Wembley. Everton displayed a new forward line after the departure of Lineker to Spain and the signing of Adrian Heath. Heath gave Everton the lead after ten minutes but this was followed by a goal from Ian Rush for Liverpool ten minutes before the end of the game. The draw meant that the Charity Shield trophy spent six months at Goodison Park and the remainder of the season at Anfield. See 1986 Charity Shield memorabilia.

17 August 1956 - On this day in 1956 future Everton apprentice and professional player Dave Jones was born in Liverpool. He made his appearance in the first team in 1974 making 86 appearances for the club before joining Coventry. He also represented England as a youth international and at Under-21 level. See Dave Jones memorabilia.

18 August 1984 - Everton meet Liverpool in the F.A. Charity Shield for the second time winning the match 1-0 after a Bruce Grobbelar own goal. This was the first of four consecutive Charity Shield wins for Everton. See 1984 Charity Shield memorabilia.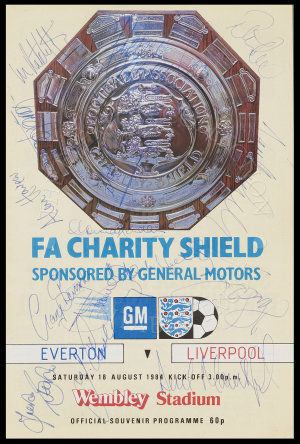 19 August 1969 - Everton maintained their 100 per cent start to the season by beating Manchester United by 3-0 at Goodison Park in front of a crowd of 53,185. Alan Ball was amongst the goal scorers. Explore the programme from this game.

20 August 1961 - Steve McMahon was born in Liverpool on this day in 1961. McMahon became one of the few players to play for both Everton and Liverpool. After developing as a junior player with Everton he made over 100 appearences for the Club scoring 11 goals before being sold to Aston Villa for £175,000 in 1983. In 1985 he returned to Merseyside with Liverpool where he stayed until 1991. See Steve McMahon memorabilia.

21 August 1965 - Newly-promoted Northampton Town made their only ever visit to Goodison Park but were beaten by Everton 5-2. Goals were scored by Fred Pickering, Derek Temple and Alex Young. Everton went onto win the F.A. Cup this season where as Northampton were relagated back to the Second Division. See Northampton Town memorabilia.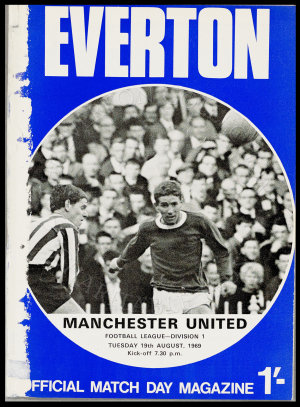 Programme, Everton F.C. v Manchester United 19 August 1969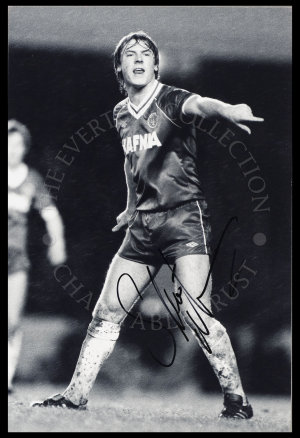 Steve McMahon