What Happened in Everton's History this Week?

22 August 1986 -
Central defender Dave Watson signed for Everton for £900,000 from Norwich City. Watson went onto the become a very successful and more importantly consistent Everton player for the next twelve years.
See Dave Watson memorabilia.

23 August 1989 -
Paul Bracewell was sold back to Sunderland after an injury had prevented his continuation as a solid and reliable player for Everton. He was originally purchased from Sunderland in 1984 for £425,000 and was sold back to them for £250,000. Bracewell made 95 League appearances for Everton and scored 7 goals.
See Paul Bracewell memorabilia
.

24 August 1892 -
A firework display and an athletics event marked the opening of Goodison Park in front of a crowd of 12,000. The crowd included Football Association President Lord Kinnaird.
See Goodison Park memorabilia.

25 August 1928 -
Jimmy Dunn made his first appearance for Everton in the opening match of the 1928-29 season against Bolton Wanderers. Dunn became one of Everton's most vital players helping the Club to the Second Division Championship in 1930-31, the First Division Championship in 1931-32 and the F.A. Cup in 1933, scoring the first goal against Manchester City in the Final. Dunn left Everton in 1935, when he moved to Exeter City.
See Jimmy Dunn memorabilia.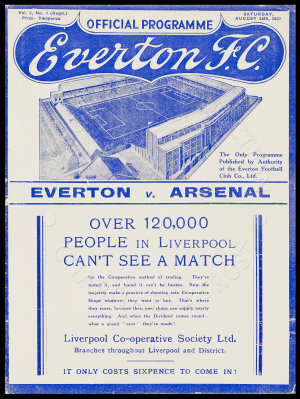 26 August 1939 -
Brentford F.C. visited Goodison Park in the first match of the season, officially Theo Kelly's first as Everton manager. Kelly was the first man to be officially named manager at the Club. He retained the position until 1948 when Cliff Britton took over. Tommy Lawton scored in the 1-1 draw against Brentford.
See Theo Kelly memorabilia
.

27 August 1966 -
Everton and Liverpool met again at Goodison Park just two weeks after Everton's Charity Shield defeat. Everton won this battle 3-1, in front of a crowd of 64,318 with two goals from Alan Ball and one from Sandy Brown. Everton went on to finish one spot below Liverpool in the League that season.
See memorabilia from the 1966-67 season.
28 August 1937 -
Dixie Dean scored his last goal for Everton in a match against Arsenal at Goodison Park. Despite Dean's goal, Everton lost the match 1-4. Dean's goal scoring ability was already legendary by 1937. His final goal in this match was his 349th for the Club in the League.
See the programme from this match.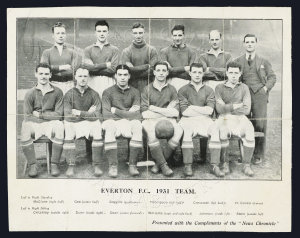 Everton F.C. 1931. Jimmy Dunn, front row, second from left.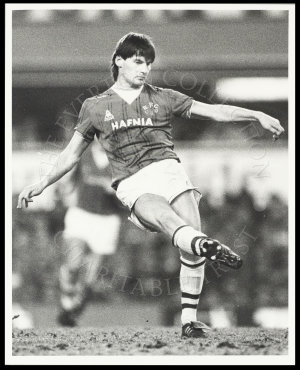 Paul Bracewell, 1984