Young Everton fan Patrick Clarke came to see the Everton Collection Roadshow at the World Museum Liverpool. Patrick was fascinated by the memorabilia on display, particularly a replica of Dixie Dean's kit which he got to dress up in.

Dixie Dean is Patrick's favourite player, and Patrick brought along a book and casette tape all about the Everton legend. Patrick told us why Dixie Dean is so special to him.

"I'd love to be Dixie Dean because I support Everton and I'd love to play for Everton. I'd love to be as good as Dixie Dean cos he's my favourite Everton player. I want to be him, he's my hero".

To hear Patrick's memories please click on the download on the right.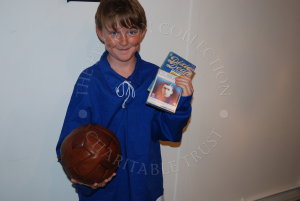 Patrick dressed up as his favourite Everton player, Dixie Dean, and holding his memorabilia