Peter McCarten visited the Everton Collection roadshow at Sefton Park Library. Peter grew up in the shadow of Anfield Park but has always been a committed Evertonian.

Peter brought along his favourite piece of Everton memorabilia, a 1984 signed casey ball. The ball has been signed by a number of great Everton players from one of the Club's most successful periods including Graeme Sharp.

"I was working with a chap that told me that he had just bought a house. He was renovating it and had come across this ball in the loft and it said Everton 1984 on....He told me he wasn't interested in football so I quickly made him an offer on the ball".

To find out more about Peter's Everton football please click on the link on the right.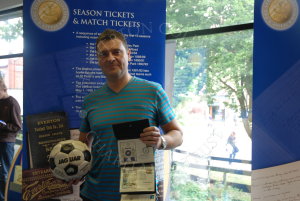 Peter with his signed football