What Happened in Everton's History this Week?

29 August 1936 -
Everton met Arsenal at Highbury in the First Division Championship on this day in 1936. The BBC broadcast the match, the first television showing of a football match. Although Arsenal won the match 3-2, Dixie Dean scored the first goal for Everton bringing his career tally to 352.
See the programme from this match.
30 August 1930 -
In Everton's first ever match in the Second Division; they made their to Home Park to play Plymouth Argyle. Fans had been shocked when Everton were relegated in the previous season and they were hoping for a quick return to the top flight. Everton won their first match by 3 goals to 2 and finished the season as Second Division Champions.
See memorabilia from the 1930-31 season.
31 August 1946 -
League football resumed after a seven year break caused by the Second World War. Everton's first match of the 1946-47 season was against Brentford at Goodison Park. The fixture list for the 1946-47 season was the same as the one that had been abandoned in 1939-40 but the Everton's line-up was much changed. A crowd of over 55,000 gathered at Goodison Park for the return of League football but unfortunately Everton lost 2-0.
See memorabilia from 1946-47.
1 September 1928 -
On this day in 1928, Dixie Dean scored his second hat-trick of the season to help Everton beat Portsmouth 4-0. This meant he had scored six goals in the first three games of the new season and their was speculation that he may beat his own goalscoring record set the season before. However, this wasn't to be and the 60 goal record set in 1927-28 has never been broken.
See the match-day programme from this match.
2 September 1914 -
Jimmy Galt made his first appearance for Everton having transferred from Glasgow Rangers pre-season. He had a great deal of success in Scotland, winning most of the honours available and Everton hoped that he would help them onto similar glory. Galt's career at Everton got off to a promising start when he captained the Club to First Division title in 1914-15. Unfortunately his career was interrupted by the First World War and he was sold to Third Lanark in 1920.
See Jimmy Galt memorabilia.
3 September 1906 -
On this day in 1906 Everton beat Manchester City by 9 goals to 1; the Club's biggest ever League win. Sandy Young, who was the First Division's top goal-scorer that season, scored two of the goals and the others were added by Jimmy Settle, (2), Jack Taylor, Walter Abbott and H.Bolton. Everton had a good season in 1906-07, finishing third in the League and winning their first F.A. Cup.
4 September 1984 -
The 1984-85 campaign was getting off to a slow start. On this day in 1984 Everton were held to a 1-1 draw at home to Ipswich Town. Despite this 1984-85 was to become one of Everton's best ever seasons winning the League Championship, the European Cup Winner's Cup and being narrowly defeated in the F.A. Cup by Manchester United.
See memorabilia from the 1984-85 season.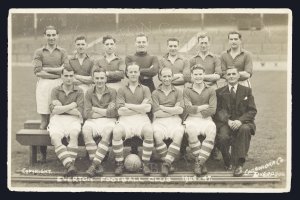 Everton F.C. team, 1946-1947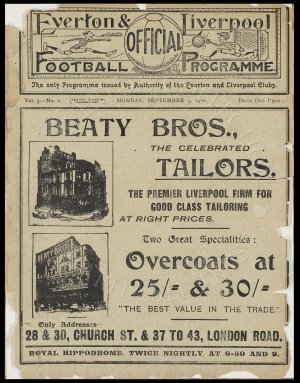 Programme, Everton v Manchester City, 3 Sep 1906