What happened in Everton's history this week?

5 September 1970 -
In an away battle with West Ham United, the defending champions won their first match of the season 2-1. The goals came from Joe Royle and Jimmy Husband. Although it was the seventh game of the 1970-71 campaign, Everton had only managed three points so far.
Explore memorabilia from the 1970-71 season.
6 September 1890 -
Everton's championship winning season kicked off with a 4-1 win against West Bromwich Albion. Fred Geary scored twice with A. Brady and W. Campbell netting the others. Everton went on to win their opening 5 games of the season.
See Fred Geary memorabilia.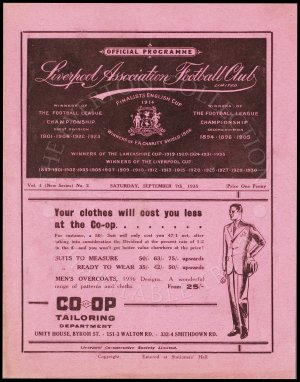 7 September 1935
- A crowd of 48,000 were at Anfield for the opening derby of the season. Everton started the much brighter side, but Liverpool's Fred Howe opened the scoring after 15 minutes. Gordon Hodgson's snap shot made it 2 before half an hour and Hodgson added a third 5 minutes later. Howe made it 4 before half-time. Everton re-gained their composure in the second half but with Dixie Dean and Williams both injured, the Blues struggled to continue with only 9 fully fit players. Howe proceeded to net 2 more goals in the final 4 minutes, taking his tally to 4 and the final score, 6-0 to Liverpool.
Read the full 1935 match programme here.
8 September 1888
- Everton kicked off their first match in the newly-formed Football League with a 2-1 home win over Accrington. A crowd of 12,000, more than twice as many had been anticipated, saw Fleming score both of Everton's goals.
Read the match programme from this historic match here.
9 September 1893 -
Jack Southworth made his Everton debut following his transfer from Blackburn Rovers. Southworth began his career with Blackburn Olympic and switched to Rovers where he won 2 FA Cup medals in 1890 and 1891. Unfortunately he suffered with illness and injury whilst at Goodison and made only 32 appearances for the Club, but still scored 36 goals! He made 139 appearances for Rovers and Everton, scoring 139 goals, and made 3 appearances for England, scoring 3 goals! His ratio is one of the best ever registered in League football.
See Jack Southworth memorabilia.
10 September 1927
- Dixie Dean and Alec Troup both scored twice for Everton in the 5-2 win over Birmingham City at Goodison, with Dick Forshaw netting the other.
Read the full match programme.
11 September 1968
- Slaven Bilic was born in Croatia. He joined West Ham from German club, Karlsruhe in 1996, and switched to Goodison Park in a £4.5 million deal in 1997.
Search all Slaven Bilic memorabilia.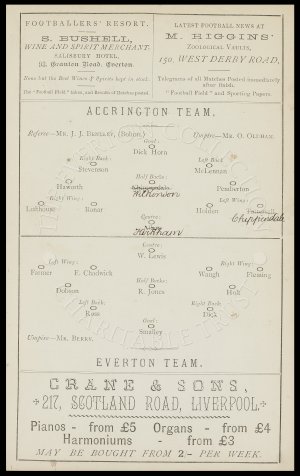 Everton's first match in the Football League