What happened in Everton's history this week?

20 September 1913 - George Harrison made his Everton debut against Liverpool at Goodison, losing 2-1. Harrison was born in Derbyshire in 1891 and began his career with Leicester Fosse in 1910, transferring to Everton in 1913. A powerfully built winger he made 190 first-team appearances despite losing four seasons to the First World War. He was transferred to Preston midway through the 1923/24 season and finished his career with Blackpool. See all George Harrison memorabilia.

21 September 1949 - Peter Farrell scored for the Republic of Ireland in the international match against England. As the match was played at Goodison Park, Farrell became the first international player to score an away goal on his own home ground! The Republic of Ireland won the match, 2-0. See all Peter Farrell memorabilia.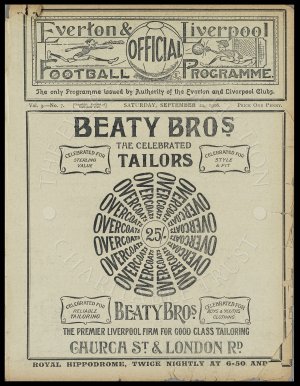 22 September 1906 - Aston Villa defeat Everton 2-1. Villa were the only team to win at Goodison Park all season, with Everton finally finishing the campaign in third place behind Newcastle United and Bristol City. Read the full 1906 match programme.

23 September 1944 - Tommy Lawton scored his first goals of the season, netting twice in the 6-2 win over Chester. See the Chester match programme.

24 September 1965 - Anders Limpar was born in Soln, Sweden. Limpar joined Arsenal from Cremonese for £1million in 1990 and helped them win the League title in 1991. In 1994 he moved to Everton for £1.6million and helped them win the FA Cup in 1995. See Anders Limpar memorabilia.

25 September 1963 - Everton's first attempt to win the European Cup came to an end at the first hurdle. After a goalless home match with Internazionale, they lost the second leg at the San Siro Stadium in Milan, 1-0. Inter went on to win the European Cup. See the trophy presented to Everton by Inter Milan in 1963 in detail.



25 September 1990 - Tony Cottee scored a hat-trick as Everton effectively made the second leg a formality with a 5-0 win at Wrexham. See all Tony Cottee memorabilia.

26 September 1952 - George Wood was born in Douglas. He began his career in Scotland playing with East Stirling and was subsequently transferred to Blackpool in 1972. Five and a half years later he was sold to Everton for £150,000 and was ever-present for 2 seasons, his consistency in goal earning him a total of 3 caps for Scotland. See all George Wood memorabilia.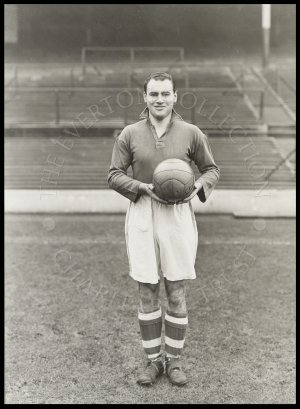 Peter Farrell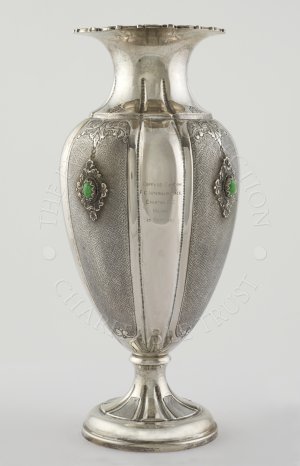 Trophy presented to Everton by Inter Milan, 1963