What happened in Everton's history this week?

27 September 1884 - Everton played their first match at their new ground, Anfield. The site was originally a field owned by Club President John Houdling and the Orrell brother, with Houlding acting as agent for the brothers. In turning it into a football pitch, the Club agreed:
"That we, the Everton Football Club, keep the existing walls in good repair, pay the taxes, do not cause ourselves to be a nuisance to Mr Orrell and other tenants adjoining, and also pay a small sum of rent or substitute a donation each year to the Stanley Hospital in the name of Mr Orrell."
The visitors for the first match were Earlestown, who Everton defeated 5-0. Find out more about Everton's Anfield days and the famous Anfield Split.

28 September 1995 - Goodison Park staged its first European Cup Winners' Cup match since 1985, with the visit of KR Reykjavik. Everton won 3-1, winning the tie 6-3 on aggregate. Search European memorabilia.

29 September 1888 - Having opened the inaugural League season with two wins Everton suffered successive defeats, including a 6-2 loss at Bolton, their biggest defeat of the season. See all Bolton memorabilia.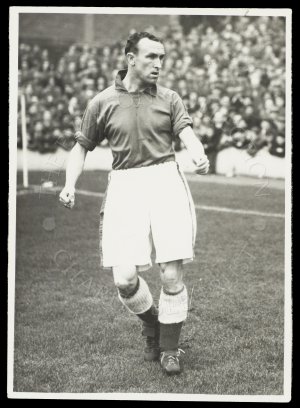 30 September 1946 - Tommy Eglington earned his first cap for the Republic of Ireland in the match against England in Dublin, with England winning 1-0. Later the same year, in November, Eglington was also selected to play for Northern Ireland against Scotland, along with Peter Farrell, the only players to have won caps for more than one country whilst on Everton's books, something then permissible. See all Tommy Eglington memorabilia.

1 October 1927 - Dixie Dean stretched his consecutive scoring record to 8 with 2 goals at White Hart Lane in the 3-1 win over Spurs. Alec Troup netted Everton's other goals in front of just 7,716 spectators, the lowest crowd to watch an Everton match all season. Read the Spurs programme.

2 October 1939 - A meeting of the Football League in Crewe announced the resumption of regional league football for the rest of the season, with games to begin on October 21st. The country was effectively divided into 8 regions (there was a 50 mile travel limit imposed on the nation by the government) irrespective of their League status before the outbreak of war. Read Everton's wartime programmes.

3 October 1929 - Tony McNamara was born in Liverpool. He joined Everton in May 1950 and made 111 appearances at outside-right, scoring 21 goals for the club. He was sold to Liverpool in December 1957 and later played for Crewe and Bury before retiring. See Tony McNamara memorabilia.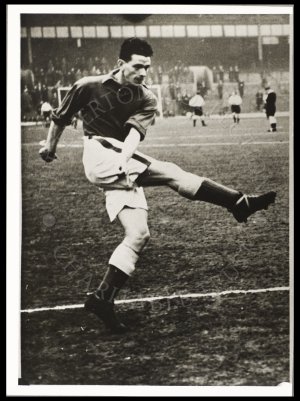 Tony McNamara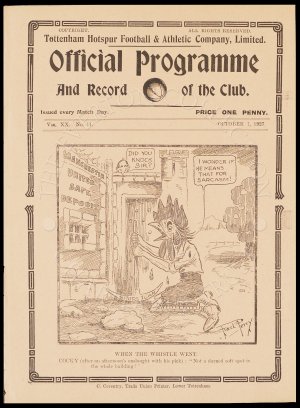 Spurs v Everton, 1 October 1927