The first Merseyside derby of the season will be held at Goodison Park this month. To mark this important occasion October's object of the month is an original 1885 ticket for a match between Everton and Liverpool.
The ticket is special as it was for an Everton home derby at Anfield (!) against a Liverpool team, 7 years before Liverpool Football Club were formed.
There was a 'Liverpool' team in existence long before the present-day Liverpool Football Club (founded in 1892). This team played their games at Walton Stiles. In the first home game of the 1882/83 season 'Liverpool' were trounced 1-10 by Blackburn Rovers in front of 900 spectators.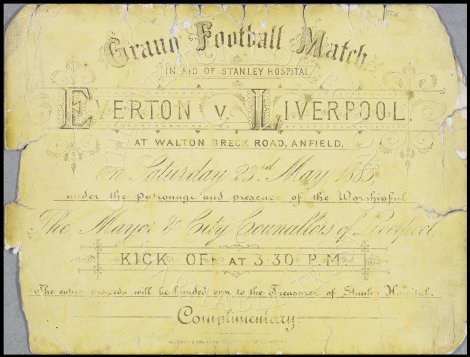 This complimentary ticket was for a benefit match at Anfield on the 23rd May 1885 in aid of The Stanley Hospital. Everton played many benefit matches with proceeds donated to the hospital. Part of the club's rent of the Anfield ground was also a small donation to The Stanley Hospital, in the name of Joseph Orrell.
Click here to find out more about Everton's days at Anfield.
Map showing Everton at Anfield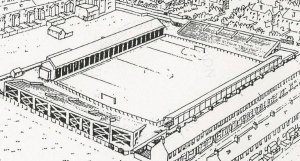 Anfield in the 1880s