What happened in Everton's history this week?

11 October 1890 -
Fred Geary scored for the seventh consecutive League match as Everton drew 2-2 with Aston Villa. He scored in Everton's last game of the 1889-90 season and went on to score in the first six matches of the new campaign, netting a total of 11 goals from those games. Everton won the League that season with Geary as top goalscorer, netting 20 League goals.
See Fred Geary memorabilia.
12 October 1917
- Tommy G. Jones was born in Connahs Quay. Discovered by Everton whilst playing for Wrexham he cost the club £3,000 when signed in March 1936. Tommy was appointed captain of Everton in 1949 but fell out with the board of directors after public comments about the way the club was run were attributed to him. After 175 club appearances he left in 1950 to become player-manager of Pwllheli.
See T.G. Jones memorabilia.
13 October 1894
- Everton defeated Liverpool 3-0 in the first ever League derby. The importance of this first meeting was reflected in the preparations undertaken by both teams; Liverpool spent the week in training at Hightown, Everton spent theirs at home with rigorous coaching. A crowd of 44,000 packed into Goodison for the historic match. In front of the Lord Mayor of Liverpool the visitors kicked off but soon found themselves pressed back into their own half as Everton asserted their authority. After only 10 minutes came the opening goal: an Everton free-kick was floated over by Billy Stewart and found McInnes in clear space. McInnes helped Everton score their second, supplying Latta with a pass from which he couldn't fail to score. Everton had a further goal disallowed for an infringement only the referee spotted, but with time running out and the light fading, Everton scored their third goal with a deflected shot from John Bell. As a reward for this historic win the
Everton players were given a bonus plus a silk hat - as recorded in the Club Minute Books.


14 October 1933
- Everton defeat Blackburn Rovers, 7-1. With Dixie Dean injured Everton's goals came from Tommy White (hat-trick), Jimmy Dunn, Albert Geldard, Tommy Johnson and Jimmy Stein.
Read the 1933 match programme.
15 October 1927
- Alec Troup scored for Everton in the 1-1 Merseyside derby draw at Goodison in front of 65,729. Liverpool had set their game plan on keeping Dixie Dean quiet throughout the game, for he had already scored in each of the opening nine games of the season, netting 17 goals. Whilst never approaching Dean's tally, Troup did at least take some of the pressure from him, getting into double figures at the end of the campaign with 10.
Read the 1927 derby programme.

16 October 1960
- Graeme Sharp was born in Glasgow. A relative unknown when Everton signed him from Dumbarton in 1980 for £120,000, he went on to become a feared striker during his time at the club. He helped Everton win the FA Cup in 1984, scoring the first goal in the Final, two League titles and the European Cup Winners' Cup.
See Graeme Sharp memorabilia.
17 October 1931
- The visit of Sheffield Wednesday was to witness 12 goals scored at Goodison Park, with Everton scoring 9 of them. Dixie Dean netted 5, with the others being scored by Ted Critchley, Tommy Johnson, Jimmy Stein and Tommy White.
Read the 1931 match programme.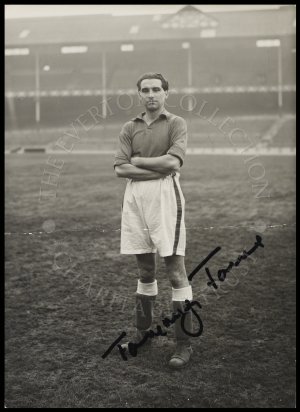 T.G. Jones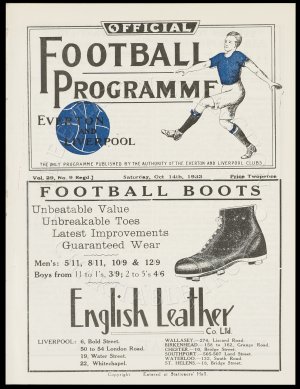 Everton v Blackburn Rovers, 14 Oct 1933