What happened in Everton's history this week?



18 October 1933 -
Everton's reward for winning the FA Cup was a home match against League champions Arsenal for the FA Charity Shield. However, on the day, Arsenal showed why they had become the dominant force in the English game with a 3-0 win at Goodison Park thanks to 2 goals from Birkett and 1 from Bowden.
Read the 1933 Charity Shield programme.
19 October 1892
- Alex Latta equalled T. Wylie's goalscoring record, netting all 4 goals in the win over Newton Heath at North Road. This was the first season of League action for the Heathens, who later changed their name to Manchester United, with Everton recording the 'double' having already won 6-0 at Goodison Park.
See all Alex Latta memorabilia.
20 October 1956
- Everton went to Old Trafford and ended Manchester United's run of 31 League matches without defeat at home, a run that had begun in March 1955 following defeat by Everton! This time around Everton recorded a 5-2 win thanks to goals from George Kirby (two), Donal Donovan, Tommy Eglington and Tony McNamara.
See all Everton v Manchester United memorabilia.
21 October 1944
- Tommy Wright was born in Liverpool. He spent his entire career with Everton, joining the club in March 1963 and going on to make 370 appearances for the first team. A member of the side that won the 1966 FA Cup and the 1970 League title, he was also capped by England and was a member of the World Cup squad for 1970. He finished his career at the end of the 1972-73 season.
See all Tommy Wright memorabilia.
22 October 1927
- Tommy White made his Everton debut, deputising for the absent Dixie Dean and proved a worthy replacement, scoring twice in the 7-0 rout over West Ham. White had joined Everton from Southport earlier in the year as a centre-forward although he originally played at centre-half, a position he was later to return to during his Everton career (and even won a cap for England at centre-half). This was his only game of the season but went on to make 202 appearances for the first team, scoring 66 goals and collecting winners' medals for the First Division championship and the FA Cup. He left Everton for Northampton in October 1937.
Read the 1927 West Ham programme.
23 October 1951
- David Johnson was born in Liverpool. He spent two spells with Everton, first joining the club in 1969 having risen through the ranks. He was then transferred to Ipswich Town and arrived back at Everton after a highly successful spell with Liverpool.
See all David Johnson memorabilia.
24 October 1962
- Dunfermline Athletic were the first visitors in European competition to Goodison Park, losing 1-0 in the Inter-Cities Fair Cup, first round first leg. The only goal of the game was scored by Dennis Stevens.
Read the Dunfermline programme.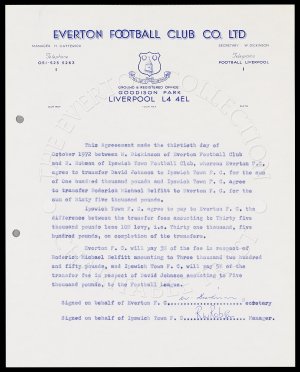 David Johnson transfer agreement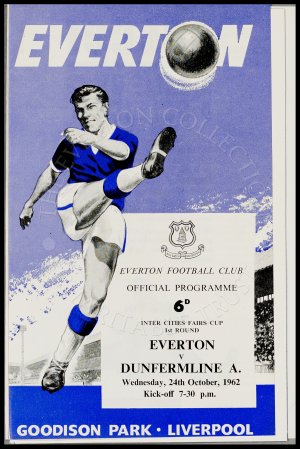 First European match at Goodison Park