This month Everton play Bolton Wanderers. 123 years ago these two clubs faced an epic FA Cup battle with 3 replays and eventual Cup disqualification for Everton. November's object of the month is the programme from the 3rd Replay held at Everton's home ground, Anfield, on the 19th November 1887.
The first FA Cup tie between Everton and Bolton was held on the 15th October 1887 at Burnden Park. This match is generally regarded as Everton's first game in the FA Cup. Everton had entered the previous year and were drawn at home to Glasgow Rangers, but unbeknown to Rangers scratched from the competition shortly before the game was played. Bolton won the first game 1-0, but it was later discovered that their centre-forward, Struthers, was ineligible and Everton lodged a successful appeal to have the game replayed.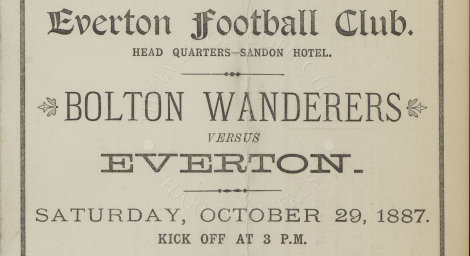 29 October 1887, 1st Replay
: The two teams met at Goodison Park for the replay. This time the two sides drew 2-2, necessitating another replay.
12 November 1887, 2nd Replay
: The third match was played at Burnden Park and there was still nothing between the two sides as they drew again 1-1.
19 November 1887, 3rd Replay
: After 4 matches, Everton finally defeated Bolton 2-1 with goals from Goudie and Watson.
See the full match programme here.
But this FA Cup story doesn't end here. Having finally defeated Bolton, Everton met Preston North End at Deepdale in the second round. Preston won 6-0, but already a Bolton appeal against Everton was underway, for they had discovered that 7 of the Everton side had been ineligible for their last meeting on the 19th November. The appeal was upheld and Everton were thrown out of the competition (despite being already knocked out!), suspended for a month and Preston had to play Bolton in another second round match! For the record, Preston defeated Bolton 9-0!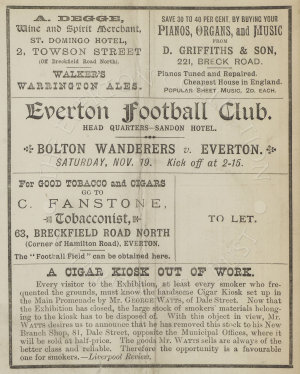 Everton v Bolton, FA Cup, 3rd Replay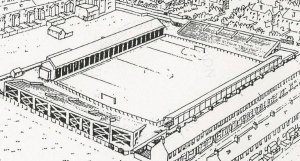 Everton's home ground, Anfield, in the 1880s