What happened in Everton's history this week?7th March 1891
- Charlie Parry was selected for the Wales side to face England at Sunderland, the first Everton player to represent Wales. England won the match 4-1. Parry had been spotted by Everton playing junior football in Wales and made his debut in the opening game of the 1889-90 season, scoring from his position of wing half. He went on to win six caps for his country whilst at Everton and further seven with Newtown, having been successfully converted to full-back during his later career with Everton.
Search Charlie Parry memorabilia.
8th March 1930
- Tommy Johnson made his debut for the club in the 1-0 defeat at Newcastle. Born near Barrow he began his League career with Manchester City, appearing in the 1926 FA Cup Final and was transferred to Everton in March 1930 having scored 158 League goals. He made 159 appearances for Everton, scoring 64 goals and won a winners' medal in the FA Cup in 1933, against Manchester City, before finishing his career with Liverpool.
Search Tommy Johnson memorabilia.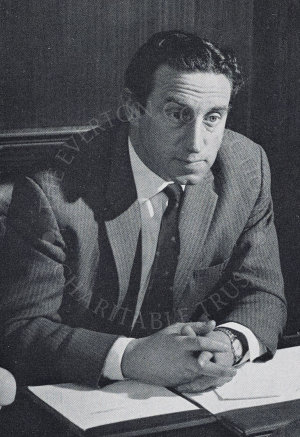 9th March 1985
- Former Everton player and manager Harry Catterick died. Replacing Johnny Carey as manager in 1961, he had previously played for the club shortly before the Second World War. Born in Cheadle Heath on the 26th November 1919 he had signed with Everton during the war and went on to make 59 League appearances for the team before being transferred to Crewe Alexandra where he finished his playing career. Upon returning to Everton he restored the club to its former fortunes, guiding them to two League titles and the FA Cup and signing a host of big name players, including Howard Kendall, Alan Ball and Gordon West. The beginning of the end of his managerial career came in January 1972 when he suffered a heart attack, being moved into an executive role in April, which paved the way for the return of Billy Bingham as manager.
Search Harry Catterick memorabilia.
10th March 1950
- Alan Whittle was born in Liverpool. An exceptionally talented forward he was expected to set the game alight when first introduced to the Everton side in 1968, but sadly he never quite matched the expectations. He made 86 appearances for the first team before being transferred to Crystal Palace in 1972 for £100,000, later playing for Orient and Bournemouth before retiring.
Search Alan Whittle memorabilia.
11th March 1905
- Everton maintained their position at the top of the First Division with a fine 5-2 win over Sheffield Wednesday thanks to goals from Alex Young (two), Harry Makepeace, Jack Sharp and Jack Taylor. Earlier in the season the two sides had fought out a 5-5 draw at Hillsborough.
Read the 1905 match programme.
12th March 1977
- Everton were through to the League Cup Final for the first time in their history and facing Aston Villa at Wembley. Manager Gordon Lee, only in charge since January led the side out for their first appearance at the grand old stadium since 1968 in the FA Cup Final. The game itself was something of a tame affair, the two sides cancelling each other out and ending 0-0, with Hillsborough scheduled for the replay.
Read the League Cup Final programme.
13th March 1991
- A first half goal from
Tony Cottee
in the Zenith Data Systems Cup Northern Semi-Final was enough to see off Barnsley in front of just 10,287. Spread over two legs, Everton faced Leeds United in the Northern Final.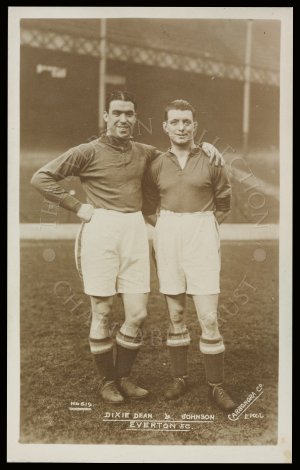 Dixie Dean and Tommy Johnson
Everton v Sheffield Wednesday, 11 March 1905