What happened in Everton's history this week?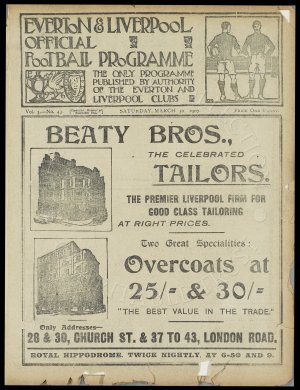 28th March 1925 -
Dixie Dean scores first Everton goal in what was only his second match for the club in the 2-0 home win against Aston Villa. He went on to score another 348 League goals whilst with Everton!
Read the Villa match programme.
29th March 1884
- Everton won their very first cup, beating
Earlestown
1-0 in the final of the Liverpool Cup at Bootle. The trophy was presented to club President, John Houlding.
See all Liverpool Cup memorabilia.
30th March 1907
- Five days after winning through to the FA Cup Final, Everton kept the double in sight with a 4-1 win over Sunderland to keep the pressure on Manchester United at the top of the table. Unfortunately this was followed by something of a collapse, for only one more League match out of six was won and Everton faded to finish in third place, six points behind United and three behind Bristol City.
Read the programme from the 4-1 win over Sunderland.
31st March 1906
- With both Liverpool and Everton making steady progress in the FA Cup there was a hope that the two might meet in the Final for the first time. Sadly, they were paired in the Semi-Final which did at least mean a day out for both sets of supporters when Villa Park was chosen as the venue. Whilst Liverpool stayed overnight in Tamworth, Everton travelled down on the day and ran out to loud cheers from the 50,000 crowd. Everton's goalkeeper
Billy Scott
(brother of Elisha Scott, who was later recommended to Liverpool by Billy!) was the busiest of the two custodians in the opening exchanges, but gradually Everton began to exert control and had a number of chances in the first half to take the lead. The second half followed much the same pattern, but the deadlock was finally broken when Abbott shot home a low drive from the edge of the area. A second from Harold Hardman, later to become a director of Manchester United, sealed the game for Everton and took them into the Final to meet Newcastle United.
See FA Cup Semi-Final memorabilia.
1st April 1957
- John Bailey was born in Liverpool. He began his professional career with Blackburn Rovers in 1975 and went on to make over 100 League appearances for the Ewood Park club before a £300,000 move brought him to Goodison in July 1979. He was a regular at full-back until the arrival of Pat Van den Hauwe and had forced himself into the England set-up, winning a B international cap. He won an FA Cup winners' medal in 1984 but then lost his place and was transferred to Newcastle in 1985 for £80,000.
See all John Bailey memorabilia.
2nd April 1892
- Edgar Chadwick scored for England after just 30 seconds in the clash with Scotland at Ibrox in only his second game for his country. Born in Blackburn, Chadwick was already something of a star when he joined Everton from Blackburn Olympic in 1888, making his debut in the very first League match the club ever played. He remained at Everton until 1899, winning a League championship medal and two runners-up medals in the FA Cup, going on to play for Southampton (he collected another losers' medal in the 1900 FA Cup), where he helped the club win the Southern League before going on to coach overseas. He later returned to Blackburn to become a baker and died in February 1942 at the age of 73. He won a total of seven caps for England whilst with Everton.
See all Edgar Chadwick memorabilia.
3rd April 1940
-
Alex Stevenson
scored four times as Stockport were brushed aside 7-0 at Goodison. The other goals were scored by
Tommy Lawton
, who scored twice and Tom Wyles.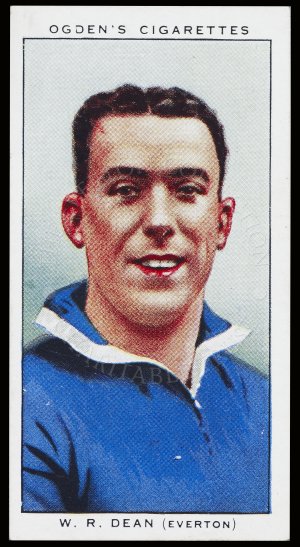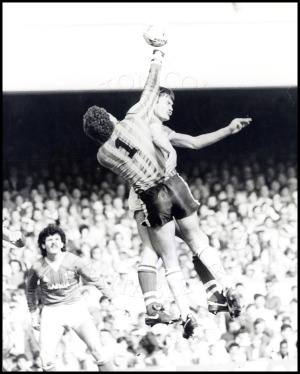 John Bailey, 1984 FA Cup Final