The final eight Minute Books (1935-64) have now been transcribed and the transcripts are now live!

These minute books cover some of the most significant events in Everton's history, from the impact of World War Two to the beginnings of the Moores' millionaires. Highlights from the books include:

- the managerial appointments of C.S. Britton (1948), Johnny Carey (1958) and Harry Catterick (1961)
- installing floodlights at Goodison (1957)
- building a gymnasium under the Gwladys Street stand (1956)
- the signing of Brian Labone (1957)
- various overseas tours including Sweden, Denmark, Holland, USA, Australia, Ireland and Hong Kong

Simply type in any word into the search field and the search tool will automatically pin-point the location of each reference within the minute book pages.

Search the complete set of Everton F.C. Minute Books (1887-1964).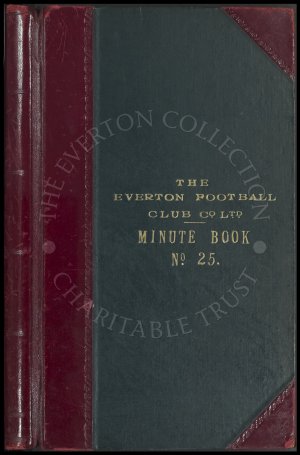 Minute Book 29 (1959-64)